The recently re-issued Balenciaga Ceinture High Derby Boot ($1,275) seems to be the moto boot of choice for fashionistas with a touch of bad girl-syndrome these days. Style bloggers and celebs like Miley Cyrus have been spotted all over in these luxe cut out ankle boots, pairing them with everything from leather leggings and colorful socks to frilly skirts and bare feet. But what about those of us who want to try to the cut out boot trend, but don't have a bank account filled with Hannah Montana residuals? The Jeffrey Campbell 'Coltrane' Bootie ($199.95) is also heavy on the buckle hardware and gives a little peek of the feet – for over $1,000 less. That's more like it.
Get the Jeffrey Campbell booties here.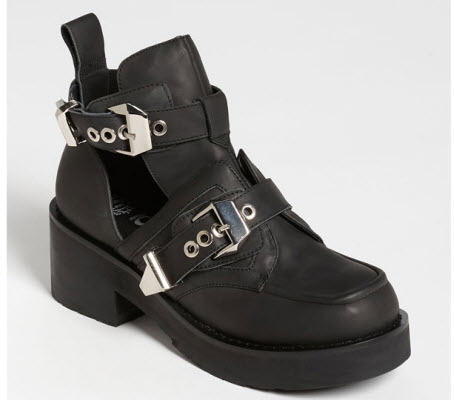 For more trends, check out the alternative to an arm party, how to wear maxi skirts in winter and a roundup of puffer vests that won't make you look like the Michelin man.