I used to struggle with knowing what to eat, when to eat it, and what effects it would have on my energy, stamina, and strength. Over the years, I've figured out some foolproof foods that help my body get ready for my toughest workout, and then refuel post-sweat sesh.
By Eve L. Kessner of Love Life and Lollipops
Before I was a SoulCycle instructor, I felt like my most self-asked question was: What do I feed my children? Now it's: What the heck do I eat and when??
Teaching such a high-energy class multiple times a day requires me to be super sensitive about what I eat, when I eat it, and how that affects my performance and mood. This is true for anyone who works out, and what you eat can have a profound effect on your energy levels throughout the day. I've found that listening to my body, not sticking to any regimen or rule book has been my best tool. Knowing what feels good for me is a great start, but it's only a start! Each day is different, with a different set of variables working against us, so we need to be acutely aware of how to balance those "variables" and make sure to maintain proper energy levels through the foods we eat and exercise we do.
Often the complication is timing. How close to working out should we eat? No one likes to be digesting and exercising at the same time. Depending on what time you start your workout routine, it may be that no food is the answer until after exercising — or maybe it's just a green juice or a piece of fruit that does the trick. After you sweat it out, however, the answer is always a good, protein packed meal!
Here are some things I LOVE before class: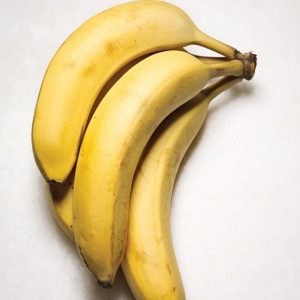 A piece of fruit

The readily available sugars and vitamins will give you something to burn off without overworking your stomach. My choice is a banana — simple, easy on the go, and packed with goodness (read: potassium) to fuel my ride.
Organic coffee with a little bit of coconut milk, almond milk, or soy milk

If you're someone who needs a little caffeine boost in the morning, this is the way to go. Coffee always gets me up and ready to teach my early-morning classes, and the protein in the milk quells my appetite long enough to hold off for a big breakfast after class.
A half (or whole) avocado

This is perfect for someone who is short on time but needs to feel full. Avocados are fiber rich, high in nutrients, and packed with healthy fats. This powerhouse combo makes them ideal for eating before (and after) a workout. I drizzle mine with olive oil, sprinkle with gomasio and sea salt, and squeeze a bit of lemon on top. Boom!
One or two hard-boiled (organic, cage-free) eggs

I sprinkle these, also perfect on the go, with sea salt for flavor and mineral boost. Eggs are high in easily digestible proteins and will keep you full longer than you may expect. You can make hard-boiled eggs ahead of time so you always have some on hand.
Iced green tea

Anyone who knows me well knows I cannot live without (or start class) without a big swig of iced green tea! I drink it all day. Green tea has the amazing tonic effects, antioxidants, and just the right amount of caffeine that I need to maintain some semblance of consciousness through the day.
After class is a whole other ballgame! Here are my go-tos for refueling my muscles: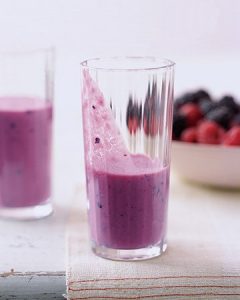 Protein-packed smoothie

A protein smoothie is one of my favorite ways to refuel. My ultimate favorite is a nut-butter smoothie with bananas — use any nut butter of your choice, and combine it with bananas, coconut, or almond milk and some form of protein powder. This combination is SO delicious, and a really easy way to get protein on the go.
Brown rice with steamed tofu and veggies

This is a great meal to make at home because the ingredients are usually very inexpensive. However, it can be easier than you think to find when you're out and about. A lot of Chinese, Thai, or Indian-food restaurants carry these ingredients, and while it may not always be on the menu, they can make this dish upon special request. For me, there is an amazing, tiny spot near the Union Square studio that serves the quickest, healthiest dishes piled high with tofu and veggies over brown rice and some homemade dumplings on the side. It's my go-to place when I need a lot of good, healthy food to feed my muscles. Plus they have the best hot sauce. I literally can't get enough after a sweat sesh.
Eggs and avocado

My favorite combination! And so easy to find. Go for organic whenever you can and if you do toast (I always do) go for sprouted and whole grain. This combo is good anytime of day and can be the perfect in-between-meals pick-me-up.
Salmon

Any salmon! Lox, grilled, salad. You name it, I'll eat it. Other than being a good source of lean protein, salmon contains beneficial omega-3 fatty acids, which has been linked to lowering the risk of heart disease. I was vegan for so long, and feel totally guilty about my newfound love for salmon, but it makes me feel good! So I eat it!
More From Martha Stewart:

Quick, One-Pot Meal Ideas To Feed the Whole Family
45 Meatless Meals for a Healthy Dinner
36 Dinners You Can Make in Just 15 Minutes!
10 Grown Up Grilled Cheese Sandwiches
27 Easy Party Food Ideas You Can Make in a Pinch
[Photo: Shutterstock]