(Jonathan Adler) RED Special Edition Partnership We're kind of obsessed with all the Jonathan Adler (RED) Holiday items. From November 24th to December 24th 10% of the sales of select RED products (including candles, pillows, frames, tumblers and more) will benefit the Global Fund to help fight HIV/AIDS. Shopping for a good cause? It doesn't get better than that. Plus, you can make someone else's holiday special too. Shop Jonathan Adler RED Special Edition Partnership (available 11/24)
Starbucks x Alice + Olivia This collab is perfect for any girl you know that loves fashion and/or loves coffee (so basically every girl you know). It includes a limited-edition tumbler with Alice + Olivia's classic black and white stripes and a mini tutu. Oh and the gift pack comes with a Barista Bear. Totally adorbs. Shop Starbucks x Alice + Olivia now.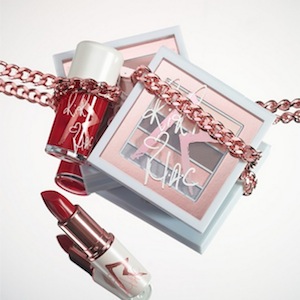 RiRi x MAC Holiday Rihanna's MAC collections might go down as one of the most popular beauty collabs of all time. There was so much hype leading up to the first launch of RiRi Woo lipstick, and the momentum kept going for her summer and fall collabs. She even crashed the MAC website a couple of times. So her final MAC collex is sure to be amazing, especially since it's for holiday. Shop RiRi Hearts MAC Holiday (available next month) [Photo Credit: Instagram]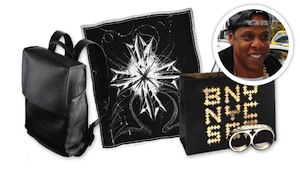 Jay Z x Barneys The line will be called "A New York Holiday", features gifts from the hottest designers and 25% of the sales will go toward his Shawn Carter Scholarship Fund. Sounds about right to us. But Jay is already facing controversy over his deal with Barneys,  and it's not about the insanely high prices. So who knows what is going to actually happen. Shop Jay Z x Barneys (available for pre-order 11/20)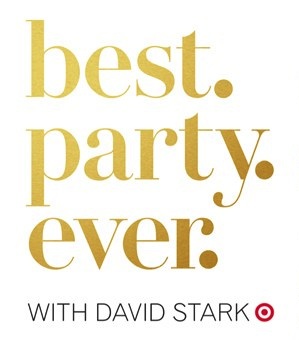 Target Best.Party.Ever Target isn't doing any big-name holiday collabs this year, but that doesn't mean they don't have some exciting plans in the works. Everyone's favorite bullseye store is collaborating with event planning guru David Stark on the Best.Party.Ever. They're basically going to create Pinterest boards with everything you need to plan the ultimate holiday party, depending on your taste. And you can shop the items from the store. Target's Best.Party. Ever. launches later this month.
Takashi Murakami x Shu Uemura This limited-edition collection pays homage to to Murakami's new animation project, "The 6 Heart Princesses (6HP)." 6HP chronicles the evolution of the majokkos, or magical girls, into super women, and you'll feel like one wearing this stuff. The line offers gel pencil eyeliners, makeup brushes, lip gloss, cleansing oil, faux lashes and eyeshadows — all enclosed in gold casing with the artist's colorful anime illustrations. Shop Takashi Murakami x Shu Uemura (available later this year).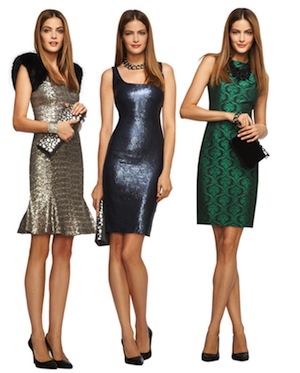 L'Wren Scott x Banana Republic We got word about this 50 piece collab way back in July, so you know it's going to be good. It features fitted velvet jackets, brocade L jeans (Scott's signature jean), striped berets and a clutch bag with a removable jeweled gunmetal chain that doubles as a necklace. We're just excited to shop anything from the former model and stylist to Madonna and Naomi Campbell. Shop Banana Republic L'Wren Scott (available 12/5)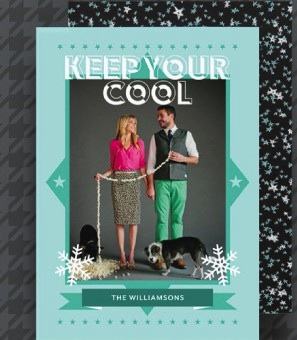 Rebecca Minkoff x Tiny Prints There are some many good things about this collab, and it's only holiday cards! The deigns are inspired by Rebecca Minkoff's Fall 2013 collection AND the cards are customizable. It's like you're your own designer. You can personalize them by adding your own photos and hand-written notes. The best part? A set of 10 is only $23.90. Shop Rebecca Minkoff x Tiny Prints now.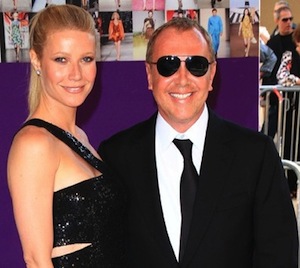 goop x Michael Kors Of course Gwyneth Paltrow wants to show off that she's besties with Michael Kors. The two are teaming up for a holiday collab set to launch on Gwynie's blog goop. The pieces are inspired by Paltrow's clothes that Kors has already designer for her (because everyone just wants a piece of Gwyneth). The collection includes cashmere capes and peplum-style turtlenecks. So basically nothing any normal person can pull off. But we just love Michael Kors so much that we're trusting him to bring Gwynie down to earth on this one. Shop goop x Michael Kors (available later this year). [Photo Credit: Splash News]
NARS x Guy Bourdin In case you don't know, Guy Bourdin is one of the most influential fashion photographers of the twentieth century known for his bold high-impact makeup. So it's no surprise that this collection is super bright and colorful. It even claims to "bring color to life" with their high-shine and high-saturated colors. Shop NARS x Guy Bourdin now.
Charlotte Olympia Christmas We wouldn't expect anything less then cinnamon biscuit bags and pudding slippers from the quirky designer. Her gingerbread man and rain deer clutches are already available on Colette, and you know we'll keep you updated on when you can shop the rest of the collex. Shop Charlotte Olympia Christmas now.
Fekkai & Jennifer Behr Hair Kit Hair guru Frédéric Fekkai is teaming up with Jennifer Behr to create the ultimate necessity for perfectly polished hair. The limited edition Fekkai Holiday Hair Kit features must-have Fekkai hair products and a sick bejeweled hair accessory specially created by designer Jennifer Behr. The collection is only currently available in store at Target, but will hit online soon.