Whether you're going away or not, we know you'll be doing something this Monday, May 26th for Memorial Day. I mean, you're not going to spend your extra day off indoors, it's the unofficial start off summer! There's beaches to visit, pools to dive into and BBQ's to eat at.
You're most likely going to be the guest at some sort of party, and you don't want to show up empty-handed. The hostess (or host) deserves a little help for throwing down at hers/his place. Sure, you can bring a bottle of Pinot or some chips and dip, but why not get creative and have some fun with your hostess gift? Especially when it's THIS easy. I've been trying to be less basic with my cocktails, and with the help of some co-workers, came up with a drink recipe that's definitely no vodka soda–and perfect for the summer! So I wanted to share it with all of you since the timing with Memorial Day could not be more perfect. Bring this mix with you to your BBQ, or serve it at your party, and we promise every guest will thank you.
We're calling this the SF Summer Punch:
2 parts Pinnacle Tropical Punch
1 part Grapefruit Juice
1 part Pineapple Juice
1 part Club Soda
Shake first three ingredients with ice and strain into a glass filled with ice. Fill with club

soda and stir.
There you have it. Try this drink over the holiday weekend and let us know what you think!
[Photo: Shutterstock]
"Pinnacle Vodka shakes things up with unexpected experiences and delightful discoveries. Explore with other fun flavors at http://www.pinnaclevodka.com". Also, check us out at www.facebook.com/pinnaclevodkas and https://twitter.com/PinnacleVodka or find more fun entertaining and drink ideas on our Pinterest page athttp://www.pinterest.com/pinnaclevodka/".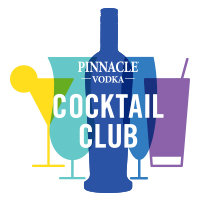 "Pinnacle® is a registered trademark of Jim Beam Brands Co. and is used with permission.  This is a sponsored partnership, with Pinnacle® Vodka, via Mode Media.  The information, comments, and ideas expressed on this website are those of the author and do not necessarily reflect the opinions or positions of Jim Beam Brands Co., its affiliated companies, or any of their directors or employees."