Summer is practically here, so it's time to buy waterproof makeup that stays put no matter how hot it is. Whether you're vacationing or just spending a humid day by the pool, you will need these smudge-free, long lasting, waterproof beauty products:
Face:
Waterproof concealer is  genius. I mean, it covers blemishes while you swim. Try out Make Up For Ever's Mat Velvet + Matifying Foundation ($34) that's shine-free and actually works. For a powder option, Laura Mercier's Mineral Powder SPF 15 ($35) comes in eight skin tones and fights aging while keeping your skin glowing, not greasy.
Want a healthy glow at the beach without harmful UV rays? You need waterproof bronzer. It's the ideal find for the first few weeks of summer while you work on your base tan. I'm stocking up now for the next three months.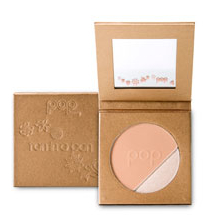 Effortless Tan in a Pan's Waterproof Bronzer ($30) duo gives skin a natural tan–no orange color or zebra lines here–and it stays on all day which is perfect for swimming or sunbathing.
Eyes:
As a self proclaimed Urban Decay mascara-addict, I was more than excited to see my favorite kind in a waterproof edition. The Big Fatty Waterproof Mascara ($20) not only sticks to lashes when wet, but plumps them up to appear fuller.  For eyeliner, I love Stila's Smudge Stick ($20). They come in metallic and matte colors and glide right on your eyelid. It lasts for hours while looking like you just applied it.
Lips:
Lancome's Le Lipstique Lip Coloring Stick with Brush ($23.50) can be used alone or under lipstick or gloss. The two-in-one pencil/brush combination gives just the right amount of color. Make Up For Ever's Super Lip Gloss ($16) comes in every color and tastes like vanilla. The portable tube slides into any beach bag and shines all day, even after eating.
Take care of your skin under those rays with our guide to the best skincare products.