SHEfinds receives commissions for purchases made through the links in this post.
I wear sunscreen every day, no exceptions. My friends say I'm a little obsessive, but I don't mess around when it comes to the sun. I might be pale, but at least I don't have to worry about skin care or premature aging. Most foundations and powders contain sunscreen, but don't be fooled–this does not offer adequate UV protection. In order to be completely protected from the sun, you should wear sunscreen every day.
I get  why most people hate wearing sunscreen. Most traditional sunscreens are greasy and don't absorb well into the skin (plus, they give you the dreaded "white cast"). Thankfully, there are  tons of sunscreens on the market that not only protect you from the sun, but are good for your skin. Here's my breakdown of the 3 best sunscreens for everyday use:
Supergoop! City Sunscreen Serum SPF 30 ($42): This is my go-to sunscreen. It's a lightweight serum that can be worn under your moisturizer and foundation. Not only is it great for every day use, but it's super moisturizing and helps reduce the look of fine lines and wrinkles.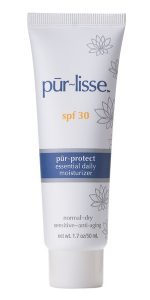 Purlisse Pur-Protect Moisturizers SPF 30 ($55): I was first introduced to Purlisse when I got it in my ipsy Glam Bag. I was immediately impressed with how quickly it absorbed into my skin. It feels like a regular moisturizer but has the added benefit of SPF. Plus, it doesn't smell like sunscreen (thank god).
Dr. Jart+ Every Sun Day UV Illuminating Sunscreen SPF 36 ($34): This illuminating sunscreen is quickly becoming my new favorite skincare product. Not only does it protect you from UV rays, but it makes your skin appear glowy and radiant. Think of it as an illuminating primer, but with SPF.  Mark my words: This product is going to be huge for summer. It just launched in March and it is already sold out at Sephora.com.
For more beauty products, check out Lancôme's new Juicy Shakers and the new Best of Becca Kit.