The Best Thing From The Phillip Lim For Target Collab? The $100 Gift Card.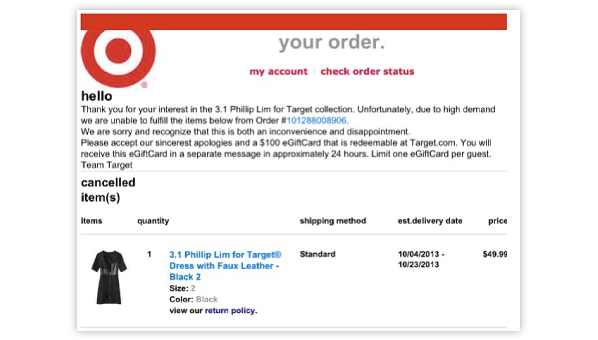 Looks like the handbags weren't the only thing that sold out from the Phillip Lim for Target line. One shopper ordered the faux leather dress for $49.99, only to find out days later that she wouldn't be receiving it. Target sent her an email with their "sincerest apologies," explaining that high demand was the reason why they couldn't fill her order. But she did get an $100 eGiftCard to Target.com instead. It doesn't add up, but who would complain? Gotta love fashion math.
UPDATE: According to Target spokesperson Joshua Thomas, the store was able to fill 98% of orders. For the remaining 2%, Target is working around the clock to pull product from stores (whatever is left) and fill the rest of the orders. Worse comes to worse, if they can't send you what you ordered, you get a $100 gift card to Target online. So either way Target's not leaving you hanging and you're getting something from them.
For more news, check out: Stila eyeshadow from the runway, Rent The Runway now offers plus sizes and shop Catherine Malandrino x Kohl's 9 days early