Summertime is in full swing, and it's high time to fire up the grill! While beer is always a popular choice for a cookout, don't count out wine as a spectacular companion to your favorite barbecue dishes. Grilling brings savory charred edges and a smoky depth of flavor that are a perfect fit with these easygoing, friendly wines. At less than $20 a bottle, you can enjoy them all summer long.
By Sarah Tracey of The Lush Life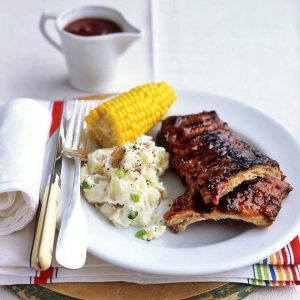 Zinfandel
Drink It with: Barbecued Pork Ribs with Maple Rub
America's great wine variety, zinfandel is a classic pairing choice with barbecued meats. Plush, smooth and generously fruity (think ripe cherries), with a little smoke and a hint of maple, its richness and body can easily stand up to ribs coated in your favorite spice rub and slathered with sweet, spicy, tangy barbecue sauce.
Ones to Try: Teira Zinfandel Sonoma County 2012, $17; Peachy Canyon Incredible Red Zin 2011, $15; Foxglove Zinfandel 2011, $18
 
Beaujolais
Drink It with: Barbecued Chicken
Beaujolais is a light-bodied red wine that's traditionally served lightly chilled (it's not to be confused Beaujolais Nouveau, which is released every November and very different quality-wise). Made from the Gamay grape, this wine gives us the perfect balance of fruit — ripe red raspberries and wild strawberries — with a touch of earthiness. The bold, spicy, and sweet flavors in barbecue sauce may overpower white wines, so a light, vibrant red like this one is a great pairing option.
Ones to Try: Pierre Chermette Beaujolias 2013, $17; Paul Durdilly Beaujolais 2013, $13; Domaine des Grands Fers Fleurie 2011, $18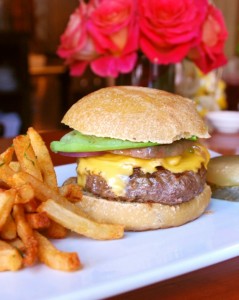 Syrah
Drink It with: Burgers
Bold, masculine, and peppery — syrah is a powerful red wine that's a delicious complement to meat dishes. You may even get a savory hint of olive, leather, or tobacco in some bottlings of this classic varietal. The rustic and hearty qualities of syrah are fantastic with the char that a grill brings to the flavor profile of your meats. If you enjoy a good dose of cracked black pepper in your burger blend, consider this your perfect wine pairing.
Ones to Try: Powers Syrah Washington State 2010, $16; Torbreck Woodcutter's Shiraz 2012, $18; Undurraga T.H. 'Terroir Hunter' Syrah Chile 2011, $19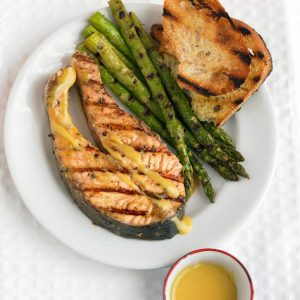 Pinot Noir
Drink It with: Grilled Salmon
One of my favorite pairings is grilled salmon with a silky, luscious pinot noir. Whoever said that you can only serve white wine with fish never tried this! Salmon has a meaty texture and rich flavor so when it's grilled, it can stand up to a lighter-bodied red without being overpowered by the wine. Since foods naturally sing in harmony with wines that share the same home (remember — what grows together, goes together), try a pinot noir from the Pacific Northwest. Oregon makes some beautiful ones.
Ones to Try: Montinore Pinot Noir Willamette Valley 2013, $19; Vista Hills Pinot Noir 2013, $19; 3 Degrees Pinot Noir 2013, $19
Sauvignon Blanc
Pair It With: Grilled Herbed Shrimp
Sweet, light, and tender, shrimp is a grill-out favorite perfect for hot summer days. Go for a fresh un-oaked, lively white wine with some green herbaceous aromas and a nice touch of citrus on the palate: sauvignon blanc! Styles of this wine can vary pretty widely according to where it's made. If you prefer a more crisp, mineral-driven style, look for sauvignon blanc from the Loire Valley in France. Fans of the more fruit-forward styles — rich with grapefruit flavors and tropical fruit aromas — can find some good deals coming out of New Zealand.
Ones to Try: Sandy Cove Sauvignon Blanc, Marlborough 2014, $13; François Chidaine Touraine Sauvignon Blanc 2014, $12; Nautilus Marlborough Sauvignon Blanc 2013, $16
More from Martha Stewart:

Quick, One-Pot Meal Ideas To Feed the Whole Family

45 Meatless Meals for a Healthy Dinner

36 Dinners You Can Make in Just 15 Minutes!