For Warm Days
You know what we're talking about. Sometimes in November or even December you wake up one morning and it says there's a high of 60 degrees. But you're not going to wear sandals, and the thought of wearing flats for your morning commute is making you cringe (those blisters!). So what do you need? Ankle boots. But not just any ankle boots, leather ones. Suede in the heat is just making us sweat thinking about it. And for those of you who live in a warm climate, this should be in your daily boot rotation through the fall and winter months. Unless it really gets warm, then sandals are maybe okay (only 75 or above!!).
Our pick: Chio 'Blasito' Bootie ($197.95)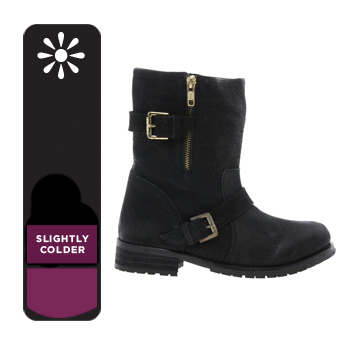 Slightly Colder
Now it's definitely a day that's cold enough to wear boots, but are you really ready to break-out your tall ones yet? No. So what do you wear? A great option is a moto boot. One that goes above your ankle and hits mid-calf. Other options at this height include combat and (some) buckle boots.
Our pick: Miss KG Bliss Zip Detail Leather Biker Boots ($151.28)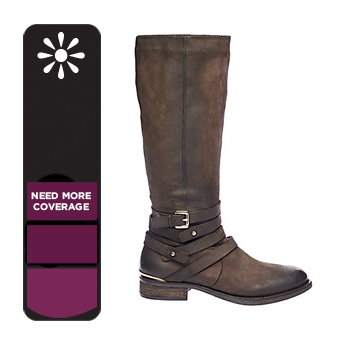 Need More Coverage
So now it's getting into the colder part of fall. The days in December when you swear it's winter...but it's not. So for days like this, definitely go with tall boots. The more coverage you have, the warmer you'll keep your legs and the rest of your body!
Our Pick: Steve Madden 'Albany' Boot ($189.95)
It's Freezing
Knee-high and over the knee boots are for those reeeeally cold days when no other shoe will cut it. But you can also wear these instead of tall boots. It's a matter of preference: how much coverage you want to keep your legs warm, or what kind of look you're going for. The over the knee trend is big this year, so this style boot is definitely more of fashion forward way to go.
Our pick: Stuart Weitzman 5050 Flat Boots ($598)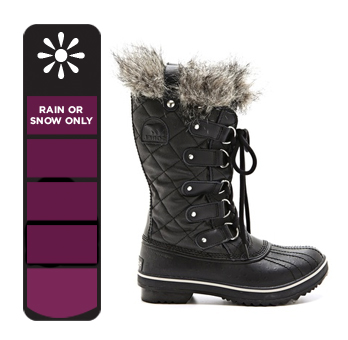 Rain Or Snow Only
Now this is a whole other category onto itself. You can't wear the four boots we already talked about on a day when there's some sort of wet weather. Suede, leather, whatever material your boot is--it will get ruined in the rain or snow. Yes, it sometimes does snow in fall (winter doesn't officially start until December 21st). We know that weather proof boots usually aren't the most stylish, but there are some good options out there. We promise! Just make sure that the boot can actually withstand the weather. We also recommend one's with some sort of fur, faux fur or shearling lining. Wet days usually tend to be colder then dry ones (at least when it snows) so you're going to want that extra lining on your feet.
Our Pick: Sorel Tofino Cate Boots ($150)