Perfect winged eyeliner is the ultimate beauty achievement. It takes skill, precision and a lot of patience. It took me years to master the wing and I still mess it up from time to time. If only there was a tool that allowed me to create an even, straight line every time… Enter: the liner.designer by beautyblender ($16). This weird little tool (no, it is not a guitar pick) acts as a guide that helps me draw the perfect line.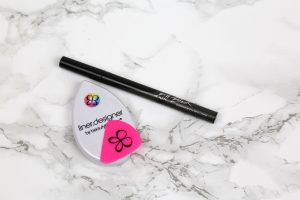 As someone who never leaves the house without eyeliner, I was immediately drawn to this product. I'll try anything that makes eyeliner easier to apply. I was pleasantly surprised by how easy it is to use.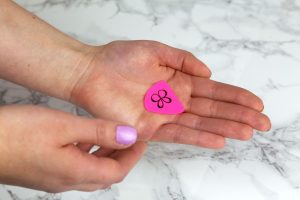 To use the liner.designer, you can either hold it up to your eye or you can warm it up by rubbing it between your hands and placing it on your skin. It will stick to your face! And unlike tape, the liner.designer won't peal off your makeup when you remove it.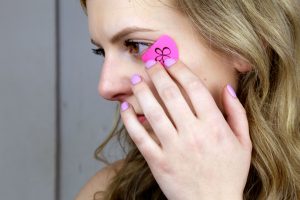 Place the pointed corner of the liner.designer on the outside edge of your eye. Then create the design of your choice by using a sharp pencil or liquid eyeliner. My favorite eyeliner is the Club Clio Waterproof Pen Liner ($22). The felt tip is super pointed and allows you to draw a smooth line.
You can use different sides of the liner.designer to create a variety of looks and lines. However, I think the biggest benefit of the liner.designer is that you no longer have to spend hours (okay, maybe it just feels like hours) making sure your winged eyeliner is even on both sides. You can mark the liner.designer so you know exactly how long to make each wing. Genius!
Makeup newbies and pros are both flocking to get their hands on this little tool. It already sold out twice on the Sephora website, but don't fret, they have been restocking regularly.
For more beauty tips and tricks, check out how to get every last drop of your favorite makeup and how to blow dry your hair in half the time.