Show your first solo place off with pride by incorporating these tips for budget-friendly artwork, furniture and accessories.
By: Laura Gaskill, Houzz Contributor
So, you have your first place. After the initial excitement fades, the enormity of furnishing an entire apartment on a next-to-nothing budget can seem pretty intimidating. Luckily, we are here to help. Read on for 19 ways to stretch your dollars and create a cute and cozy pad you can be proud of.
Teach yourself about making vignettes. The best way to learn about what works in your space is simply to spend some time experimenting. Move furniture, rearrange stuff, edit and just have fun playing around. Often, I find that the most ingenious space solutions and display ideas come only after months of living in a space, so try to be patient.
Mix and match your bedding. Rather than buy a complete set, keep your eye out for sales on solid-color sheets, printed duvet cover, and pairs of cool shams. A good rule of thumb when mixing prints is to use one large scale (such as the leafy print on the duvet cover here), one small scale (like the pattern on the pillowcases), and one solid (as on the round cushion).
Keep it sweet and simple. Focus on keeping rooms uncluttered and centered around a clear purpose. Don't fret about not having exactly the pieces you want right away. In the breakfast nook shown here, for example, a simple table and set of chairs looks cozy and inviting when centered on a soft rug, and accented with a tin of flowers and a display of thrifted dishes on the wall.
RELATED: 10 Ways to Maximize a Small Space
Learn to love the vintage hunt. If you want to save money and still create a unique look, there is no substitute for spending some time on the vintage trail. By choosing to spend a little of your free time hunting at yard sales (or on Craigslist), you can be rewarded with quirky finds like the vintage yellow school chairs shown here.
Tips for your vintage treasure hunt:

– Authentic midcentury sideboards and coffee tables with great, clean lines can be found at reasonable prices at vintage shops — often for around the same price as a new piece made from particleboard.

– No cool midcentury pieces to be found? Paint any funky old garage sale dresser with high-gloss white paint for a thrifty chic look.

– Think (and inspect) carefully before picking up an upholstered piece from the sidewalk or a yard sale — bedbugs and pet stains could be an issue.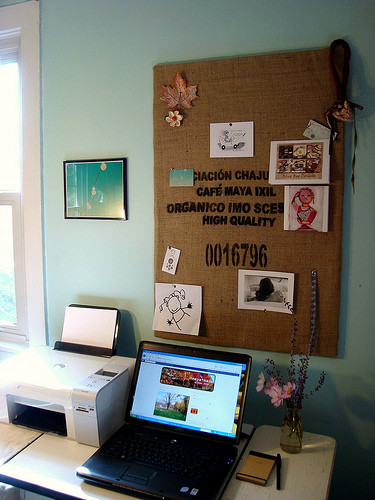 Upgrade your dorm room bulletin board. Use burlap, linen or canvas to cover your basic dorm room bulletin board. If you have a local coffee shop that roasts its own beans, you could ask to have (or buy) one of their old burlap sacks — or pick up a cheap canvas drop cloth at the hardware store. Use a staple gun or finishing nails to affix the fabric to your board.
RELATED: Create a Dream Gallery Wall With New Frames
Don't scrimp on hooks! It can be tempting to pick up those stick-on plastic doohickeys from the drugstore, but please don't. Go for a more permanent solution — it's nothing a little spackle and touch-up paint can't cover when you move out.
Personalize the bathroom. Rather than heading right for the "bath" section of Bed Bath & Beyond, search your own apartment for items to repurpose as quirky bathroom accessories. Glass jelly jars, teacups, dessert plates and decorative trays all make excellent containers for toiletries. Mismatched mirrors can be scooped up anytime you see one on sale and clustered on a blank wall for a cool effect.
Make use of those candid snapshots. What's the use of taking all of those digital photos and using Instagram if they never leave your computer? Print some out and tape them in a grid with colored masking tape to make personalized wall art.
RELATED: Add Trendy Lamps to Brighten Up Your Space
Use old things in fresh ways. Vintage suitcases, for instance, can be stacked and used as a side table, and filled with off-season clothing to boot. Trunks make great coffee tables, and a spare chair can stand in for a bedside table. Look around at what you already own and see if you can't think of a new way to spin some of your old stuff.
Shop Ikea … but know where to draw the line. We all know Ikea is a wonderland of budget-friendly finds, but if you don't want your home to look indistinguishable from a page in the catalog, you will want to have a plan. If you're going to move again in the near future, you may want to avoid some of the larger, more complicated shelving units, for instance. While they are sturdy enough when left alone, they don't tend to last through multiple moves. Solid one-piece items like chairs, lamps, rugs and smaller tables are safe bets and can easily be mixed in with more "permanent" pieces down the road.
Keep things neat with white. Budget finds like paper storage boxes and simple lamps almost always look better in white. Plus, there is something really neat and orderly about having a whole stack of all-white anything. You can always add in more color with your artwork and accessories, but it's harder to go back once your flat is a jumbled mess of prints and hues. Start safe and small, and build it out from there.
Learn a few space-saving tricks. Solid upholstered cube stools are a fabulous pick for a first apartment because they can be used in so many ways — paired up as a coffee table, tucked away as extra seating, or within reach of your favorite chair to put your feet up on. If space is really tight, consider hanging your TV on the wall above your computer, letting your desk do double duty as an entertainment center. Whether your TV is up on the wall or set on a console, hanging art above and around your TV will help it blend in.
RELATED: Stylish Furniture for Small Spaces
Fill an art wall for less. Mix a jumble of different-size art prints, photos and printed quotes, all in black and white, on a single gallery wall. Cut-up art books, postcards and snapshots are all very affordable ways to build this look, and the simplest frames will look cohesive in black and white.
Learn to say "yes" to hand-me-downs. Grandma's piano? Aunt Samantha's cane armchair? Yes, please! It can't be overstated how much having one or two nicer, older pieces mixed in will elevate everything around them.
Know what to look for in budget furniture. If you are looking for a sofa and can't find a hand-me-down, keep in mind that choosing a smaller-scale piece will be easier to reuse down the road than an oversize version. Also note that budget sofas with tight backs and seats (like the Urban Outfitters couch in the space shown here) will stand up better over time than similarly priced sofas with soft, squashy cushions.
Consider swapping out a light fixture. Do look up proper instructions and do not attempt this unless you can confidently shut off the electricity while you are working, but those caveats aside, you would be amazed at the difference ousting an ugly light can make for your whole apartment. Plus, these days there are so many chic options for well under $100 that replacing a light is certainly within reason. I love this cool brass number from Urban Outfitters — it's a steal at $64, and you can take it with you to your next place when you move.
RELATED: Browse Millions of Photos for More Design Ideas
Cover up icky carpeting. If you have ugly wall-to-wall carpeting in your rental apartment, it can work wonders to layer fun area rugs on top. A solid natural-fiber rug or a crisp geometric print like this charcoal-gray and white version are foolproof choices.
Upgrade one thing. Choose a detail that matters to you to upgrade — bath and hand towels, for instance, or coffee cups, or salt and pepper shakers. It doesn't really matter what it is, just that you love it and it makes you feel good when you look at and use this special item.
Shopping tip: Anthropologie, while not known for being easy on the wallet, is actually filled with a surprising number of stylish finds for the budget decorator. Colorful bowls, stemless glassware and towels are just a few of the things I have scooped up for under ten bucks at my local Anthro store.
Don't forget the houseplants. If you could buy just one thing for your new apartment, it should be a plant. Fresh, green houseplants make a place feel more like home. If a room in your apartment seems like it's lacking something, try adding a green plant or a potted orchid and see the difference it makes.
Tell us: Do you have any first-apartment decorating stories to share? Share your tales and tips in the Comments below!
[Photo: Dabito]