Chances are you've bore witness to one of The Last Line's amazing (or terrifying, depending on how squeamish you are) piercing parties in an Instagram story or two. That's how I came to know the brand and it didn't take long for me to fall in love with their amazing assortment of stunning earrings.
Fast forward to now and The Last Line just upped the ante. In addition to gorgeous earrings, they now offer breathtakingly beautiful necklaces, bracelets and rings, too. The visionary behind the reasonably priced fine jewelry brand every fashion girl, celeb and influencer is loving these days? Shelley Gibbs Sanders. Get to know her and more about The Last Line below.
SHEfinds: Tell us a little about The Last Line.

Shelley Gibbs Sanders: As a designer, I tried to steer away from having the line be led too much by my own aesthetic. The core of the brand is quality, I wanted to create pieces that can be worn but not worried about. The inspiration behind the name of The Last Line is it is the last place you'll have need to look for fine jewelry and trust me, I plan to live up to our name. My goal was to design classics with a twist and honor the craftsmanship of pieces from the past. For me, it's how a woman mixes her jewelry collection that is cool.
There are two parts to The Last Line: The Heart and The Soul, everything is designed in Los Angeles where I draw every piece of jewelry. The Heart pieces are the core of the brand and your jewelry box; they're the staples that (I hope!) you never want to take off and that make you feel instantly put together. The Soul pieces are the jaw-dropping, make your girlfriends ask "where did you get that," expertly crafted, special pieces you want to treat yourself to. I of course, believe you need both!
When designing the line, I wanted to incorporate color and work with stones beyond the usual suspects of emeralds, rubies, and sapphires, so you will (soon!) see some lapis, tiger's eye, carnelian, and malachite. I love the idea or refreshing the classics with new colors and reviving jewelry techniques of the past to create modern heirlooms. Jewelry is classic, I wanted to honor that with a new lease, but stay true to the great styles and silhouettes.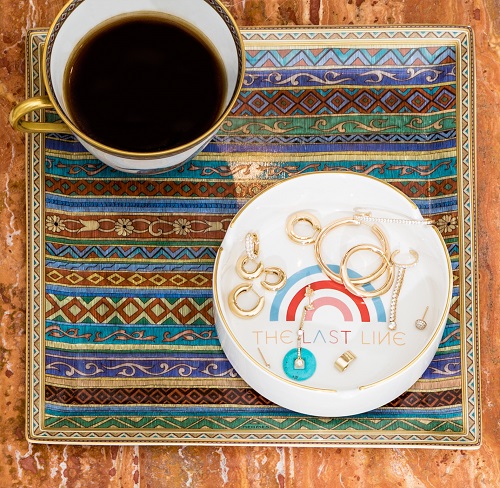 SF: What's your background? Have you always been in the fine jewelry business?

SGS: I have been "in the industry" for over fifteen years, and have had the rare opportunity of being on both the design and production sides of the process, which was very helpful when we decided to launch The Last Line. And, in the end I am ultimately a consumer so basically it is the trifecta of intel. My career technically began in New York where I studied Fine Arts at Parsons School of Design before returning home to California to train with Master Jewelers in San Francisco. After learning the tricks of the trade, I returned to Los Angeles to begin my career as a jewelry designer. Over time (and companies!) my roles evolved and I became the head designer and creative director for dozens of celebrity jewelry brands and high-end jewelry houses, working with everything from costume jewelry, gold, diamonds, and precious stones.
SF: What inspired you to start The Last Line?

SGS: I had been designing jewelry for over fifteen years, with each job and project there was the thought in the back of my mind… if this was my line, how would I do this? In recent years, it was less of a daydream and more of a fixation. I felt like I had seen so much jewelry and somehow something was missing. So I decided to get serious and do some research and I found there were definite holes in the market: reasonably priced, not-so-great design or amazing design and quality, outrageous price with nothing in the middle, which I found so frustrating. From there, I began speaking about my theory with my girlfriends, family, etc. and confirmed, I was not alone in that feeling. Fast forward to July and voilà, The Last Line has launched with what I hope to be the perfect pieces for everyone (and there are options!)
We chose to launch direct-to-consumer because fine jewelry shopping can be intimidating, a lot of which can be the result of pricing and I didn't want that to be the case with The Last Line. Because we are direct to consumer, we can present amazing, quality pieces without a retail mark-up so you are really getting the best diamond, gold, etc. for your money.
SF: What's been the most exciting part about building this business?

SGS: Truthfully, for me the best part is seeing people from all over the world buy my pieces. I think that's so cool and hope it only grows. Second, designing, I love design of all types and I love to create. I can't stop–it is an obsession. It's very challenging to think as a business woman and as a designer at once. That said, I'm starting to find out I enjoy the strategy side of the business almost as much as I do the creative.
SF: The hardest?

SGS: I find it's difficult to find balance. I'm a creative, I'm always thinking and wanting to create! You mind is always thinking on what more you could do, how you could change something, etc. but you have to just accept where it is and learn and keep going. Its hard to edit, I want it all and I want to just keep doing it, Its hard to say this is complete for the moment. If it were up to me I would design pieces every single day, all day.
SF: Is there a quintessential "The Last Line" item? The one piece you feel every woman should own?

SGS: I may be biased, but how can you chose just one? I think our flowers are so great and we recently launched charms for your hoops, which I love. My thought is jewelry is personal, it's self expression and should be personal. I wanted to present options, in each drop you will have classics with a twist and then some really fun special pieces. I think every woman should own a few pieces that can take her from day to night, it's not about quantity of pieces for me; it's about the versatility. Everyone should have a conversational piece, something that invite a dialogue and makes you feel really special.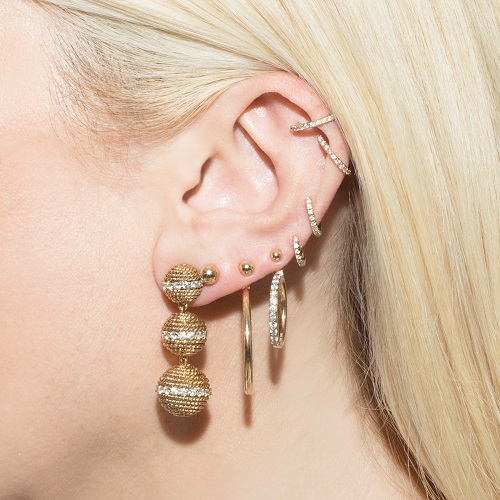 SF:  Who do you design jewelry for?

SGS: Everyone! Myself, my girlfriends, fabulous women I've never met and maybe even some gentlemen with good taste. I am a designer and love to create, but I am ultimately a consumer, so it's the best of both worlds when it comes to designing pieces.
SF: Any new exciting ventures jewelry lover should be on the lookout for?

SGS: We have so much more to come, necklaces, bracelets, rings, more earrings! Stay tuned.
SF: If you weren't running The Last Line, what would you be doing?

SGS: In another life I'm a stay at home mom, but I'm not sure if that would stick. Or a lawyer–I'd be horrible–I'm much too emotional but I oddly enjoy those parts. The engineer in me likes figuring things out and solving problems, doesn't matter if they are design or people I guess.
[Photo: The Last Line]