Racked is celebrating their Wedding Week with great coverage on everything bridal — from the best waterproof makeup to interviews with celebrity brides like Cynthia Rowley (did you know she made her own dress, the day before the wedding?!). Our favorite of their wedding coverage so far: this awesome list of the 23 most iconic movie brides. With my personal favorite, Robin Wright as The Princess Bride, at the top of the list, how could I resist? See whether your childhood (or adult) favorites made the list: 

Kristen Stewart as "Bella" in Twilight: Breaking Dawn (2011):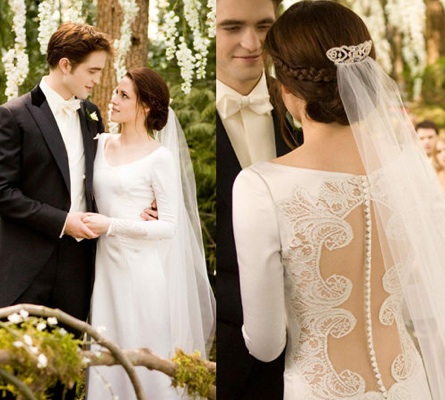 Twi-Hards, how could we forget you? Every detail of Bella and Edward's wedding tickled Twilight fans — especially that backless Carolina Herrera gown and it's Alfred Angelo replica. Twilight-themed weddings are now "a thing," with one particularly enthusiastic couple taking the last name Cullen.
Audrey Hepburn as "Jo Stockton" in Funny Face (1957):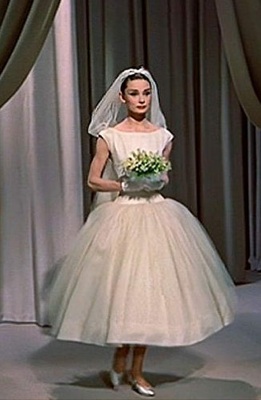 Any Audrey Hepburn role is instantly iconic, but who could resist the cap sleeves and full, tea-length skirt on this classic 1950s wedding gown? Vintage brides will have to stalk Unique Vintage and Modcloth for something of this caliber.
Maya Rudolph as "Lillian" in Bridesmaids (2011): 
She might be iconic for going number 2 in her wedding dress, but she will live in cinematic history nonetheless. Maya Rudolph nailed the role of your nice, down-to-earth BFF who turns all Bridezilla while planning. We all know someone like that.
Sarah Jessica Parker as "Carrie Bradshaw" in the Sex and the City movie (2008): 
In true "Carrie" fashion, a small courthouse wedding turns in to an over-the-top, 300-guest event at the New York Public Library — Vivienne Westwood couture gown and all. Spoiler alert: these nuptials don't end well, but Carrie and Big as an iconic couple sure do.
Rachel McAdams as "Allie" in The Notebook (2004):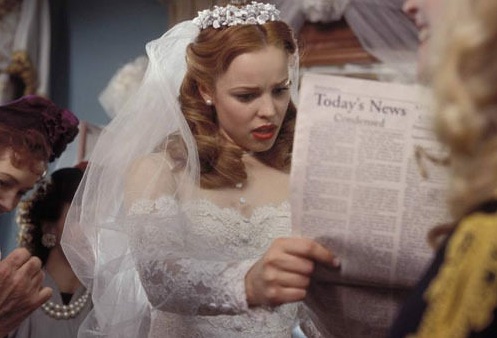 Rachel McAdams played snotty bride-turned hopeless romantic-turned dementia victim, "Allie," in this teary drama. All hail the movie that put Ryan Gosling on the map.