I'm one of those people who never travels for 4th of July weekend. I don't love eating outside (so BBQs aren't a huge draw for me) and I actually really enjoy the city when it's empty on a holiday weekend. So what the heck was I doing in an airport on July 1? Making my way to my bestie/college roommate's wedding in Utah!
Despite the fact that both her and her (now) husband are from New Jersey, they opted to have the wedding in Park City, not too far from where they currently live. Initially, I wasn't so jazzed about traveling to Utah. My friend doesn't love it there and many of our convos since her move have been about the not-so-great parts. But this was her wedding after all, so I committed to the trip and in retrospect I am so glad I made the journey. Why? It. Is. Beautiful.
I'm born and raised on the East Coast and I must say, we have some pretty gorgeous scenery. The NYC skyline? New England in the fall? It's beautiful. But I was so not prepared for how breathtaking the mountains in Utah would be. I honestly spent the whole ride from the airport up to Park City ignoring my family and just snapping pics on my iPhone. Behold:
Think I put a filter on to make the sky that blue? Nope! I feel like my eyes had never seen colors like these!
I could go on an on about the nature, but it's also worth noting that Main Street in Park City is one of the cutest strips I've ever been on. Not only are there tons of amazing shops, but the food is bomb. My personal rec? Grappa, where my friend had her rehearsal dinner. The food was so good. Also, they have this super cute outdoor seating area that I absolutely fell in love with: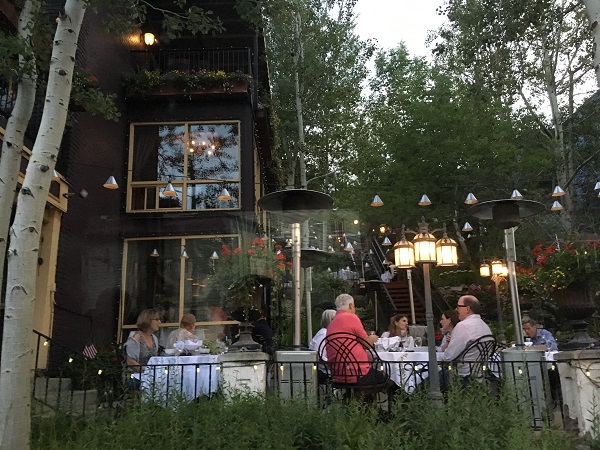 I obviously can't make a case for visiting Park City in the summer without stating the obvious: it's not freezing! The weather was so sunny and beautiful that it made an already-gorgeous place feel even more idyllic. And what's not to love about hiking, riding the gondolas and enjoying the killer scenery without a million layers of clothing weighing you down? For this reason alone, you should start planning a warm weather trip to Park City stat.
One last word of caution. Despite my change of heart of visiting Utah, it wasn't all rainbows and butterflies. The altitude there is no joke! I spent my first day popping Advil because my head was killing me from being so high above sea level. Also, my ears kept popping. It was brutal at first, but my body did eventually adjust.
When it came time to leave, I definitely wished I had more time. So, until next time Park City!
Be sure to check out my favorite resort in Mexico and what you should do as soon as you start to get a sunburn.