Being millennials, we were basically raised to be masters on a smart phone. We grew up with our Motorola RAZRs, LG flip phones, LG enVs and Voyagers… you remember them all too well. After mastering the number keyboards, we were blessed with the full keyboards of Blackberries and ultimately (thankfully) iPhones. Clearly, we have gone through the evolution of the cell phone, and have grown to become fluent in the language and mechanisms of texting – or so we thought.
Could you ever imagine that there was something out there making other people better texters? And not just millennials – mom and dad, too. We know – we needed to find out the method behind this madness, and here it is:
The FlyGrip ($29.95). What? The FlyGrip is this small attachment that you can stick to the back of your phone to make it easier to grip. You flip it up, and it creates a place to put your fingers, allowing you to have a tighter grip on your phone. You need to check it out.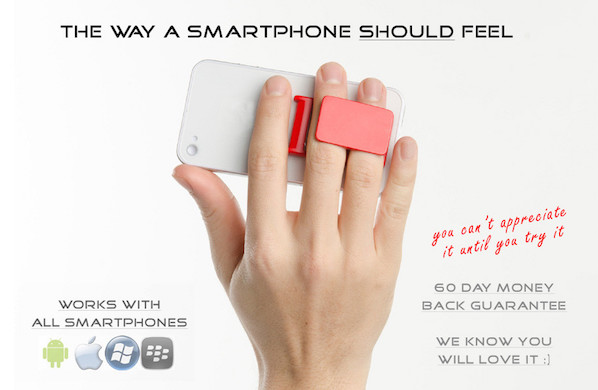 So forget the days of dropping your phone while walking in the busy city streets. Say goodbye to the times when you were fumbling with your phone while texting with one hand. The FlyGrip gives you a good grip, allowing you to easily text, call, search – whatever you do – with one hand, without the fear of dropping your phone! Genius, we know, and we want one now!
Make sure to check out This Nail Polish Color That Takes The Longest To Chip and How To Clear Storage Space On Your Phone Without Deleting Pictures
[Photo: Shutterstock, Flygrip.com]
SheFinds receives commissions for purchases made through the links in this post.