You know the feeling… when you don't have that certain ring, bracelet, or necklace on, it feels like something is missing. Our jewelry becomes part of our bodies – we wear it as a ritual, all day, every day. But when you barely take off your jewels, it's really hard to notice that your ring has lost its shine, or that your bracelet has some weird dirt on it from, who knows where?
We found the easiest and simplest trick to get your jewelry back to its original clean. No need to go to a professional, just raid your kitchen (or a friend's) and get cleaning. All you need is some warm water and dish soap!
1) Put some warm water in a small bowl and add in your jewelry.
2) Add some dish soap and let it soak into the water. Dish soap that cuts grease will work really well, like Dawn Dish Soap.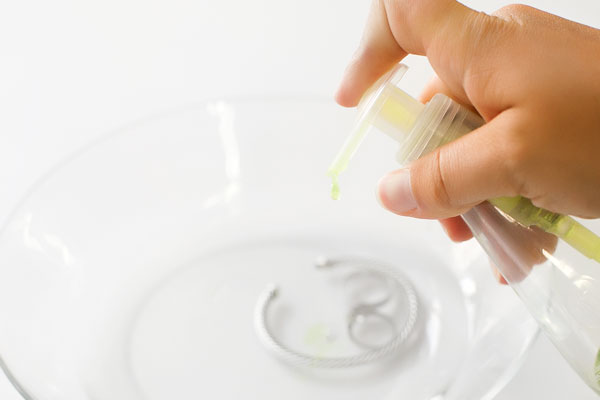 3) Leave your jewelry in the soap and water mixture for about 15 minutes to let the soap do its work!
4) Dab off your jewelry and look at it shine!
Try out this cleaning hack on your favorite jewelry and for a few other cleaning hacks, check them out here.
Be sure to check out The One Color You Should Never Wear When It's Hot Out and 7 Places To Buy a Gorgeous Engagement Ring For Under $2,500!
SheFinds receives commissions for purchases made through the links in this post.