Nail polish is shaping up to be the recession's answer to the "It" handbag. It's kind of like 7th grade again, where everyone is obsessed with the shade of the season. Remember Chanel jade nail polish? If you are wearing the on trend shade,  everybody notices, and unlike a luxury handbag, a bottle of the stuff costs about the same as a pair of tights–and lasts longer. (Unless they're Wolford tights.) Let us guide you through the new nail polishes of 2010 so you're way ahead of the game.
1. Nude is a big spring fashion trend, and this Chanel Inattendu Nail Polish ($23) is one of their three new spring nail colors. It's nude with a slight peachy tint that will complement any summer dress.
2. If you're the noncommittal type, get in on the purple trend with this Nars Purple Rain Nail Polish ($16) without going overboard.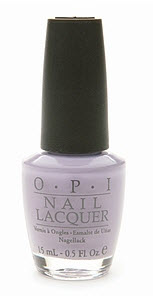 3. At the Oscars, lilac was king, and this OPI Nail Polish Done Out in Deco ($8) is a pretty pastel option that will soften up your look.
4. Mushrooom-greige-taupe is still on everyone's radar, and Essie's  Mink Muffs ($8) nail polish is more affordable than Chanel.
5. Turquoise is Pantone's 2010 color of the year, and while we usually like the color for jewelry, we are not opposed to trying out this Pop Beauty Nail Glam Turquoise Nail Polish ($14).
See more posts about nail polish, then check our roundup of the best heavy moisturizers and the best eyeliners.