While runway looks on models don't always translate off the runway, one item designers always come back to is the safari jacket. Since the '70s, these versatile jackets have crept back onto the runway (and into our closets)–and for good reason. They add instant structured style to dresses, fitted trousers, and even shorts, helping you survive the jungle of your busy life in seconds.  The best part is you can utilize the functional cargo pockets and leave that gigantic bag at home–it's so 2006 anyway.
The real reason this spring trend works is because it's structured enough to create a clean line, so petites feel more pulled together with a safari jacket that has a belt, because it creates a waist. If you're looking to hide your tummy, you're in luck: the short-sleeved safari jacket allows you to be comfortable, but buttoned up, all the while streamlining your look easily. It is an easy piece you can throw on if you have no clue about how to dress for your body type.  See more shirts to hide your tummy, and get Spanx swimwear before it sells out, too.
Pockets on top of pockets means enough room for your lipstick, Blackberry, wallet, keys, and any other essentials you need for your daily life. Gap ($86.50) has mastered the art of belting, buttons, and pockets in this waist-cinching jacket.
This simplified version by Isaac Mizrahi for Target ($14.99) is such a steal that no one will believe that you spent less on your new spring jacket then on last night's dinner.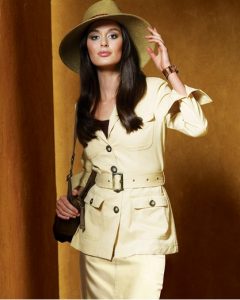 Take the safari look to a literal level with this belted blazer by Newport News ($49).  We don't necessarily recommend including the giant sunhat unless you really are tramping through a real life jungle.
Shell out a few more dollars for a more heavy duty jacket, like this timeless number by Tory Burch ($365).
Get all the best clothes and accessories for spring with our guide to rain gear and really chic rain boots.  And see how you should plan your spring wardrobe by checking out our top five spring trends.