Since the gals at SHEfinds are so interested in acne and skincare these days (just check out our ProActive story), I figured I would share an acne sufferer's dream come true and worst nightmare: the Simplehuman Sensor Mirror ($200). Sold at Sephora, this mirror has a built-in lighting which turns off and on on its own, can last two weeks on one charge and offers 5x magnification. For a pimple face like me, 5x magnification means you can see and pick at EVERYTHING. This thing puts every blackhead, every white head and every other imperfection in plain sight, which is great and terrifying all at the same time.
Most girls who suffer from acne, like myself, have a weird obsession with picking at it. Even though we all know we aren't supposed to do it, girls with acne thrive on getting a "good one" and popping it. The problem, is that this leaves your face looking like a big red pepperoni pizza. Hence the name, pizza face.
Aside from the fact that this mirror had me standing in front of it for hours picking at every pore on my face, it is awesome. The magnification and LED lighting is incomparable to any mirror I have ever used, which makes it perfect for plucking your eyebrows (but don't pluck too much), putting on makeup and applying skincare products.
If you use this mirror and your makeup doesn't look flawless everyday, then you might need to see an eye doctor, because it lets you get soooo up close and personal with your face. Before I had this mirror, I was a constant offender of the awkard blush/bronzer/foundation line on the side of my face, but now it's not a problem. I have so much lighting that there is no way I could forget to blend. #LifeSaver
Another reason this thing is so awesome is that you barely ever have to charge it or change the bulbs. One charge will last you a month, which is perfect for travelers or lazy girls, like me, and the light bulbs will supposedly last a lifetime. (I'll give you all an update on that when I'm a 100 years old.)
Basically, this mirror is the best beauty tool I have tried all year, which is saying A LOT, since I've tried so many.  Just be careful not to over-pick your zits, otherwise, this thing will make putting on your makeup and caring for your skin 5 times easier. Get one. You won't regret it.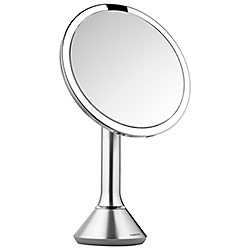 Simplehuman Sensor Mirror ($200)
For more beauty products, check out: Beyonce's VMA manicure, NARS Vault Box and the best drugstore foundation.