Although we love our faux fur vests and faux fur accessories, when it comes to softness, nothing beats a real fur vest – bring on the hate mail. But it's true, real fur is an investment, and a luxurious piece of fashion that lasts a lifetime (you rarely hear granddaughters arguing over fake fur jackets in the will). So for those of you not of the PETA bandwagon, these 5 fur vests are here to keep you warm and stylish all winter:
We love the blend of colors on this 525 America Rabbit Fur Vest ($195). And at under $200, it's hard to resist this luxurious yet trendy vest.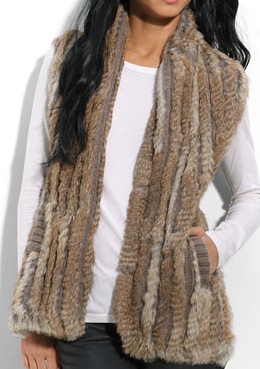 This Marc by Marc Jacobs Rabbit and Wool Vest ($395) is longer, making it the perfect winter addition to any outfit. Try it with leggings and flat black boots.
Instead of lugging around a thick peacoat, try this Line 'Lucas' Crop Lamb Fur Vest ($495) for going out at night. It seriously matches everything.
For a more casual look, grab this 525 Hooded Fur Vest ($215). Imagine how warm your ears will be when you pull up your hood in the cold.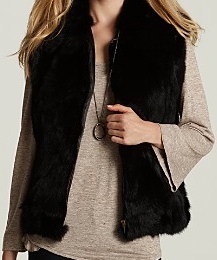 Surrell's Long Hair Rabbit Vest ($198) is not only a steal – but it's a great staple for your wardrobe. Wear it with skinny jeans or even a dress and you'll always look polished in this vest.
Check out more of our favorite winter trends. Shop our guides to the best faux fur vests and the best faux fur accessories. Subscribe to our e-mail mailing list for instant fashion updates.