The Swarovski Jewelry From The Margiela Couture Show Will Be Shoppable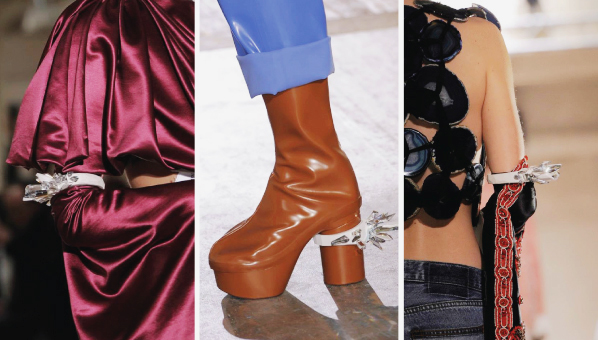 Swarovski and Maison Martin Margiela are almost ready to launch their jewelry collection, which was four years in the making. The collab includes couture and ready-to-wear pieces made from Crystalactite. Yeah, we didn't know what that was either. It's a material that combines crystals with matte white resin. Still confused? Matte white resin is kind of like a shiny white plastic, but obviously way more fancy. Together, the crystals and resin form a single smooth block that is then cut into shapes to create the jewelry.
We didn't know at the time, but we already got a sneak peek of the couture collection earlier this month at Margiela's haute couture show in Paris. Hence, the pictures above. However, these higher-end pieces won't go on sale until November. They will be priced around $1,285 for bracelets and $1,025 for pendants. The lower-priced three-piece collection for Atelier Swarovski won't be available until spring 2014 and it will be about half the price of the couture line. Do you think this collection is worth the 4 year production process?
For more collaboration news check out: Banana Republic x L'Wren Scott, Twitpic of Isabel Marant for H&M and TOMS x Lonely Planet