Once upon a time, I rocked cherry red lids with bright blue mascara, canary yellow with a bit of sparkling orange, or vivid peridot (also with my trusty blue mascara). But then, perhaps with age, I fell into neutrals, which isn't bad—but I wasn't tripping the light fantastic on my eyes anymore.
Until, that is, I met The Body Shop's makeup guru Chase Aston, who introduced me to the company's new summer collection, Hot Brights. The colors are a mixture of warm sultry hues with pops of bright color. I'd liken it to a palette you'd want to wear when you're lounging poolside in a cabana that costs more to rent than buying a car (yes, these exist).
The collection contains eight eco-friendly products, but these were my standouts.
Hot Brights Eye Color in Pearly Sky,  $17
Chase showed me how to control the intensity of this gorgeous aqua, but also noted that "color-blocking" the hue (applying the color from lash line to crease) is the way to go this summer. I tried my hand at it myself—and received limitless compliments.
Hot Brights Blush in Bronze Horizon, $24
This bronzer-and-highlighter duo warms my skin without looking dirty. Swirl the two together for a soft-focus effect or, as Chase says, use the warmer shade along the cheeks for a sun-kissed look while sweeping the lighter shade along the top of the cheekbones for a dewy highlight.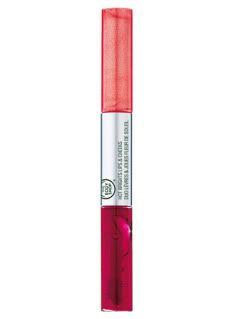 Hot Brights Lip Shine & Cheek Stain in Coral Sand, $18
I relish two-in-ones for their convenience, so this brilliant tool is a must. The shimmering coral-bronze gloss is extremely subtle, and Chase suggests simply "applying the cheek stain to lips and then adding a wash of the shimmering gloss over top for a fresh, summer lip."