As we mentioned earlier, the SATC DVD is available today, and you don't want to miss Carrie, Samantha, Charlotte, and Miranda in all their glory–or most importantly, the fashions.
Back in June we gave you a head's up on what would be hot. Now, behold, the trends that stuck. Get your hands on the buzzworthy bling, bags, and styles that make 5th Avenue sizzle.
Statement Jewelry
We said this was one trend sure to stay, and maybe it's just the weight of those enormous jewelry pieces, but I think it's going to stick around a while. Look-alikes of Miranda's earrings ($120) were spotted in gold at Emitations.
And who could forget the monster of a cocktail ring that Smith gave Samantha? Rumor has it that House of Bastion provided this gem for the film (as well as the majority of the jewelry) but we found a pretty close replica available online here.
Belted Waists

I think these pictures really say it all. The bold colored dresses are feminine and structured; with the belts, they harken back to the days when Marilyn Monroe's curvaceous figure was considered the sexiest thing going. The Catherine Malandrino Grenadine Dress ($339) is forgiving, but in fire engine red you won't be overlooked. Subtle yellow and nipped at the waist is this Moschino Cheap and Chic sheath ($486.50), or for the frugal fashionista, there's this geometric-inspired belted ruffle dress ($49).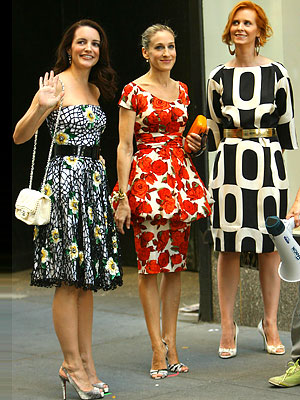 We All Covet Chanel
But oh, that Chanel bag! Could the classic flap be any more coveted this season? It's in every glossy and on every other girl in New York who can afford it. Girls on a budget can get the vintage version of the caviar quilted bag ($224/week) at Bag Borrow or Steal along with many more from the set.