Last night we had the pleasure of meeting Don O'Neill of THEIA and viewing his latest Fall Bridal collection. After walking us through the collection, Don hung around and dished on our favorite piece in the collection, the inspiration for what a winter bride should wear, and of course, the influence of Ms. Middleton on the bridal industry.
Don also shared his illustration of what Kate Middleton's dress should look like (he was one of the first designers to do this!):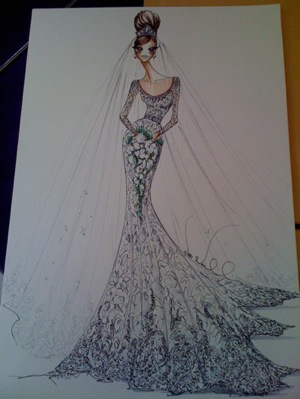 In the mood to shop now? Check out our guides to the best strapless wedding dresses, white wedding shoes and inexpensive wedding dresses.