Once the cold weather hits, my go-to uniform is a sweater, jeans and boots. Needless to say, I'm obsessed with sweaters. Forever21 currently has tons of sweaters on sale for under $20 and $10! Yes, really. There is a wide variety of styles to choose from, and for under $10 what could be better?! These are selling out fast so drop everything and shop now!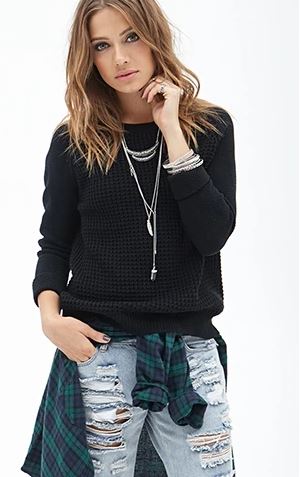 Favorite Waffle Knit Sweater ($9.99, down from $15.80)
Contemporary Boucle Open-Front Cardigan ($16.99, down from $24.99)
Plaid Fuzzy Knit Sweater ($19.99, down from $27.80)
Don't miss everything rose gold you need to own and can you tell which ankle boots costs $1,610 more than the other?
[Photo: Striped Sweater, Fuzzy Marled Knit Sweater, Striped Open-Knit Sweater]