I don't think I've ever come across a dress that makes so much sense. This is the kind of thing they should teach aspiring designers in school: how to make an affordable, cute maxi dress that everyone can wear, from celebs to expectant moms. Instead of going on and on about how much this dress rocks, we'll give you 5 reasons why it needs to be added added to your summer maxi wishlist ASAP:
1) The Tees By Tina Micro Stripe Dress ($85) is one size fits all.
2) By one size fits all, we mean you can wear it when your pregnant, for all nine months, and after you lose the baby weight.
3) It's under $100.
4) Famous moms-to-be Malin Akerman and Doutzen Kroes were both spotted wearing the dress, as well as skinny minnies Diane Kruger and Olivia Munn. #MustHaveStatus.
5) It's available in every size on Nordstrom. JK it's one size fits all, so you don't have to worry about it selling out in your size!
So did all of this just convince you to get this dress or WHAT? Don't wait to buy now that word's out about the most perfect maxi dress ever.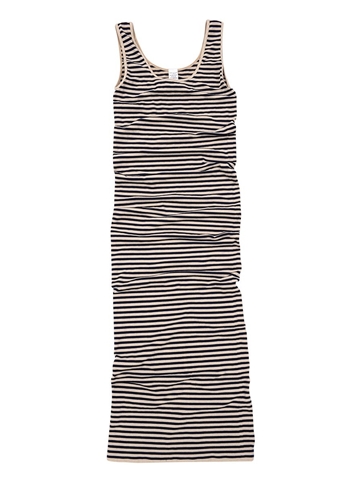 Tees By Tina Micro Strip Dress ($85)
And don't forget to check out: the launch date for Gucci's first makeup line, Mara Hoffman x Anthropologie, and this tech-charging wallet
[Photos: Splash News]