I've been coveting a pair of velvet booties since this summer. I've always loved velvet and I am so stoked it's back in fashion this season. Velvet booties are at the top of my fall shopping list and I was ecstatic when I came across these gorgeous blue beauties at, wait for it, Old Navy! Pretty color, great price… what's not to love?
Velvet Ankle Boots ($31.46, down from $44.94)
I immediately added them to my cart, but started second-guessing myself once I started the checkout process. Would they be comfortable? Is the velvet going to look cheap? There were just many unknowns for me to close the deal.
But then I checked back on the boots today and what do you know?! A fellow shopper posted a pic that was just the nudge I needed to order these booties ASAP. Look how cute they are: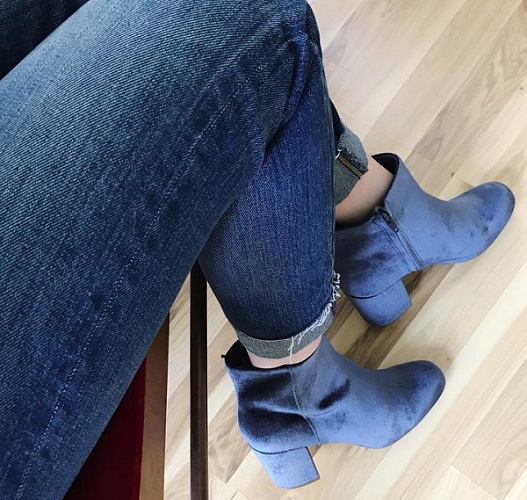 Amazing, right? Even better, they're 30% off today with code THANKYOU at checkout. Word to the wise: one size is already sold out, so my advice is to order yourself a pair of these velvet boots ASAP. It's only a matter of time before more people realize Old Navy has these amazing boots and start snatching them up.
While you're there, might as well stock up on more fall goodness, right? Almost everything is 30% off, after all. Check out more of our top picks.
Velvet Blazer ($34.97, down from $49.95)
Plaid Midi Shirt Dress ($25.86, down from $36.94)
Oversized Flannel Scarf ($16.06, down from $22.94)
Brushed Stand-Collar Coat ($41.96, down from $59.94)
Lace-Up Neck Swing Dress ($25.86, down from $36.94)
Don't miss Nordstrom's huge UGG sale and this super cute lace-up top.
[Photo: Old Navy]
Save
Save
SheFinds receives commissions for purchases made through the links in this post.