You can't spend 10 minutes on Pinterest without running in to one of these floral bridesmaid robe photos — which are hugely popular on the photo-sharing site. And it's no wonder: they make for ah-mazing getting-ready photos.
If you're looking for a way to make your getting-ready shots stand out – you have to get  floral kimono robe sets from Plum Pretty Sugar Loungerie (the exact styles from Pinterest). They make for a great gift for your b-maids, or for the bride herself. Plus, you'll wear them long after the big day.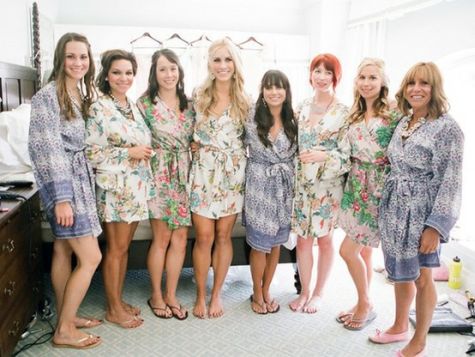 Brides or bridesmaids can choose from 6 different prints in sizes XS-L. Pricing for a set of cotton voile robes starts at $130 for a set of two, to $650 for a set of 10 (but they practically pay for themselves in beautiful, "getting ready" wedding photo opps!) Plum Pretty Sugar also has gift sets for MOBs, MOHs, and special honeymoon sets for brides!
Want more wedding pretty? Shop our guides to the best simple wedding dresses, cheap bridesmaid dresses, and bridal hair accessories.