If you couldn't get your feet into a pair of Isabel Marant's wedge sneakers last fall, here's your chance to get her "it" shoe next time around. Her fall 2013 collection just debuted at Paris Fashion Week, and while there were many standout pieces in the rock-and-roll themed line, a pair of knee-high black boots stole the show. The boots, which are a tall, sexier version of her bestselling Bekett wedge sneaker, took the term "ready to wear" to another level: every editor in attendance was ready to wear 'em right out of the Carrousel du Louvre. And while you can expect to see them on every off-duty model and celebrity this fall, you don't have to be a pin-thin actress or working model to wear them. The ponyskin boot hits right below the knee and the wide opening makes legs look thinner. Okay, are you sold yet?
Another stand-out of the show, was the ponyskin, Velcro-strap ankle booties that the designer herself wore at the close of the show: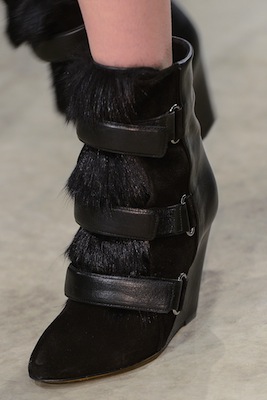 Isabel Marant Fall 2013 Ponyskin Boots
If you can't wait until fall to score Marant's casual-cool style, shop her famous Bekett wedge sneakers here.
Don't forget to check out Isabel Marant's "Memphis" ankle boot, Rebecca Minkoff's Nilson Sunset Nylon Skirt and this season's must-have sunglasses.