Rag & Bone sale items are currently an additional 25% off and this sale includes denim. Let me rephrase. You can save over $100 on select pairs of Rag & Bone jeans with code: HURRAH25 at checkout. This sale is seriously almost too good to be true, so it's okay if you have to pinch yourself. Rag & Bone is a favorite denim brand in the blogger world and you can shop the white skinny jeans featured on Mind Body Swag below!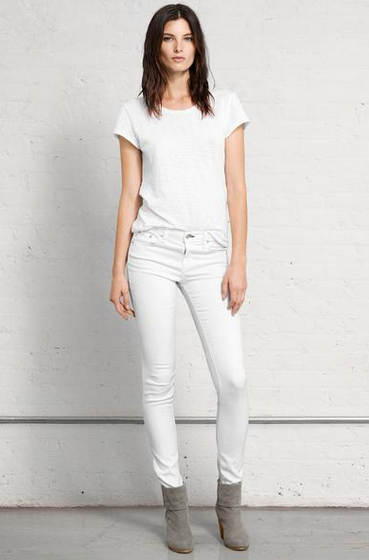 Rag & Bone Skinny OVD in Bright White ($95, down from $185)
If denim isn't your thing, don't fret! Rag & Bone's sale also includes dresses, outerwear, tops, and bottoms. Bonus: shoes and accessories are also included.
Don't miss 6 August collaborations you need to know about and shop Lea Michele's versatile $48 dollar tank!
[Photo: Mind Body Swag]