Sunglasses are one of the most important things to have in your wardrobe, but can we just say, they aren't the cheapest item to buy. You'll probably break or lose them at least once in your life, and there goes $100+ down the toilet. Then what do you do? You go out and buy another pair because sunglasses are essential, especially during the summer.
What you need is a pair of shades that are durable and look good, like Italia Independent sunglasses. The celeb-approved brand just debuted their unbreakable sunglasses: the Sunglasses I-Ultra. These sunnies are practically rubber, and can be bent in any way possible and won't snap. Cue that sigh of relief: you won't have to worry about breaking your precious sunglasses ever again!
But wait, it gets better. The Sunglasses I-Ultra can float in water, too. So you can pretty much wear these for any occasion, whether you're running errands or hiking up a mountain. Also, it comes in like 10 different colors so you'll definitely find what you want!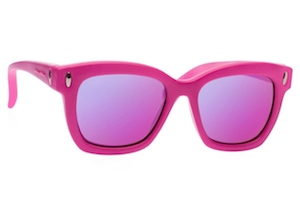 Sunglasses I-Ultra in Fuxia Led ($167)
SHOP ITALIA INDEPENDENT SUNGLASSES NOW
Read up on other morning news stories like Maya Brenner at J.Crew, Intermix's sale and Shopbop's sale.
[Photo: Italia Independent]