Pantyhose making a comeback? No, this isn't some sick joke to torture you after the long weekend. If we're to believe the Wall Steeet Journal and a segment on Good Morning America featuring our very own Michelle Madhok, it's actually happening thanks to Kate Middleton. Because the duchess rarely steps out without a pair on, women flocking to mimic her royal style are snatching up nude hose like it's 1980. Hosiery retailers like Donna Karan are reporting increased pantyhose sales, so much so that they're expanding their collections to include more "nude" shades.
But the question remains: Kate Middleton fanatics aside, will real women actually embrace the resurgence of pantyhose and wear them? Even we have to admit there is something nice about the illusion of perfectly smooth legs, but the itchiness, running and unbearable control tops? We can't decide.
If you are team pantyhose, the one pair we swear by are Wolford's Naked Tights. They are super sheer, yet durable and crazy soft: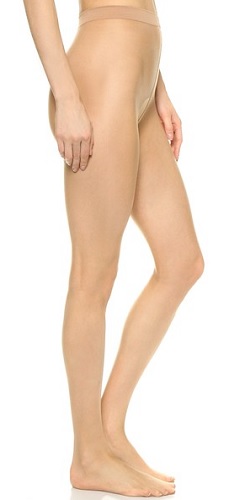 Tell us whether you'll be embracing the return of pantyhose on the comments!
Be sure to check out what your engagement ring says about you and the right way to store your nail polish.