Two years ago they did women's white tees, and last year menswear and jewelry, but the new winners of the CFDA/Vogue Fashion Fund have been tasked with a much greater challenge for their Gap collaboration: give the brand's staple khaki a much needed reinvention. If the Design Editions collection is any indication, you'll need to fall into the Gap before it sells out. Designers Alexander Wang, Vena Cava (design team Lisa Mayock ad Sophie Buhal), and Albertus Swanepoel bring the best of their unique aesthetics to classic Gap pieces with spectacular results.
Three faves below:
1. This Khaki Zip Dress from Vena Cava ($88) is a short, tribal-inspired take on a comfy shift dress. The contrast zip gives it pretty lines, and although you can't see the back here, the shoulders have cutouts that steer it away from being a typical tank dress.
2. Winner Alexander Wang outdid himself with this Khaki Jacket ($88). It's spot-on for this season's casual jacket trend, and can be worn throughout the warmer months.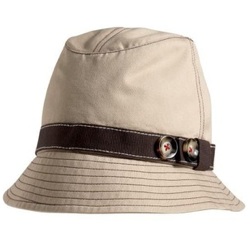 3. Runner-up Albertus Swanepoel created a few cute styles of khaki hats, but I particularly liked this Button-Trimmed Khaki Hat ($39.50) for its preppy twist on a safari topper. The topstitching complements the tortoise shell buttons and it looks a lot more expensive than its Gap-worthy pricetag.