For the past few seasons, black has become one of my staple nail colors. It's simple and minimal and there's just something about glossy black nails that just feels so edgy in a cool-girl way that reds and pinks can't achieve. (Not to mention it goes with pretty much any outfit I throw on throughout the week!)
While classic black will always be my go-to, Zoya's gorgeous shade Dahlia ($7.98) just might be the perfect way to update the look for fall. The brand describes the shade as "a black beauty with sugared sparkle," and its finish is Zoya's Pixie Dust Matte Sparkle. (If you didn't think "matte sparkle" could possibly be a thing, think again – this shade is seriously gorgeous!) The finish also creates a glittery, 3-D finish that basically looks like caviar on your nails – need I say more?
With over 1,000 reviews on Amazon and an average of 4.3 stars, the formula has proven to be a beauty lover favorite too. As one reviewer described, "It has this little bit of grit in it, the only way I know to describe it is that it feels just like sand is actually blended into the nail polish. This is absolutely, hands down, the best looking polish that I've ever owned."
If you're feeling a bit blah about your nail polish selection (or just tend to paint your nails the same three tried-and-true colors over and over again like me), Zoya's Dahlia just might be the nail color refresh you're looking for for fall – and for $7, why not?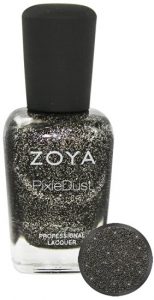 ZOYA NAIL POLISH IN DAHLIA ($7.98)
[Photo: Amazon]
For more nail finds, check out: If You Paint Your Own Nails, This $3 Peel Off Cuticle Protector is Genius! and How To Make Your Own Metallic Nail Polish
SheFinds receives commissions for purchases made through the links in this post.