I just discovered what might be the *world's best strapless bra* (with this and this tied for second).
The contest's pretty close–but here's why the Peyton bra from Yummie just pulled ahead: it is the best bra for off-the-shoulder tops (which is, of course, the top you want to wear most right now but have the hardest time finding a bra sitch for).
I just discovered Peyton, and we became BFFs real quick.
The style wasn't just designed for off-the-shoulder tops, but it's so, so good for them. It's bottom wire free, so it's incredibly comfy, and has no back or front closure so it's completely smooth and seamless under clothes. According to Yummie it is one of their bestselling bras: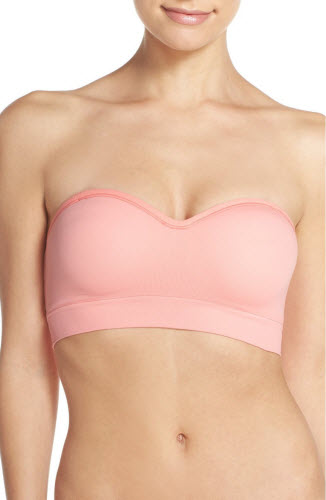 Yummie by Heather Thomson 'Peyton' Convertible Wireless Bra ($38)
Also, it has "360 degrees of flexible all day support" designed to keep it from rolling, tugging or falling out of place throughout the day. Nice. The customer ratings on Nordstrom and Bloomingdale's websites are both good–most women talk about how comfortable it is in relation to other strapless bras.
So, that's the low down on the Peyton--will you try it?
[Photo: Poor Little It Girl]
SheFinds receives commissions for purchases made through the links in this post.