This Brand Makes The Softest T-Shirts Ever--And They're All Under $40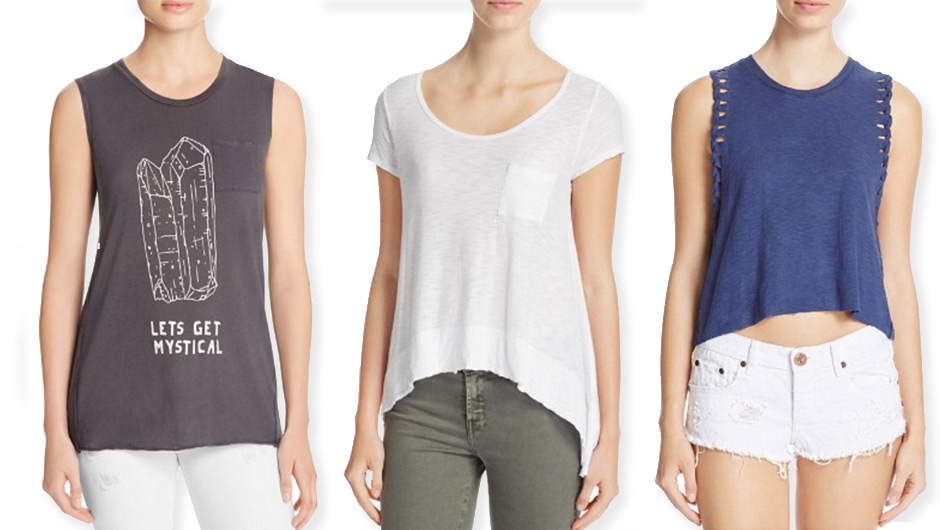 SHEfinds receives commissions for purchases made through the links in this post.
I am a sucker for anything soft. I walk through clothing stores and touch every t-shirt, tank top, romper, dress, or sweatshirt that passes my way. If something feels like I want to wrap my body in it at all times, that's it, game over, I need to try it on.
But there's always some bumps in the road… either it doesn't fit well, not the color I want, or the worst – it's too much money. Seriously, if I find a white t-shirt that I love and know will wear to death, I'm happy to treat myself to it. But it's really just not worth it spending upwards of $60 on the plainest of tees. Seriously, why are they so much money?!
One day, I was in my usual stomping grounds of Bloomingdale's and stumbled upon this plain black t-shirt with holes in it. I've been in the market for a ripped t-shirt for a while, so I figured I would try it on, see if I liked it, and then figure out the price. Well… after I tried it on, and fell in love with it, I was shocked when I looked at the price tag – $38! I happened to be there during a sale, so I got it for even less and was ecstatic! (Seriously, nothing makes me happier than a new t-shirt.)
Since then, I've been obsessed – the brand is Michelle by Commune, and everything is well-priced (t-shirts under $40!) and super soft – my two favorite things! So if you're like me and love anything soft and comfy, or in the market for some new staple pieces, you need to check their stuff out, ASAP. So what are you waiting for… shop Michelle By Commune!
And while you're at it, you need to check out these other amazing pieces, all super soft and not going to break the bank!
Michelle by Commune Hartley High/Low Pocket Tee ($33)
Michelle by Commune Encinitas High Low Cami ($27)
Michelle by Commune High Low Slit Contrast Tee ($38)
Michelle by Commune Striped Tulip Back Tee ($31)
Michelle by Commune Braided Cuff Tank ($37)
Michelle by Commune Cold Shoulder Dress ($42)
Michelle by Commune Let's Get Mystical Tank ($28)
Make sure to check out This Amazing Bloomingdale's Shopping Trick and These Stores You Probably Didn't Know Have A Student Discount