Is the dry winter air taking a serious toll on your skin? *Raises hand* Well, you need to treat yourself to one of the best hydrating facial masks. What would that be? The 4-star rated GLAMGLOW Thirstymud Hydrating Treatment ($69). Here's why this product is a great investment and indulgence.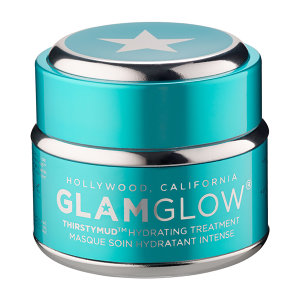 GLAMGLOW Thirstymud Hydrating Treatment ($69)
If your skin is patchy, flaky or just dry in general, this mask will completely take care of all these issues. I mean, just look at its name! Thirstymud will instantly give your face hydration with its active technologies like Dewdration and HydraPack. This mask not only hydrates but also moisturizes, energizes and replenishes the skin. Plus, GreenEnergy technology will smooth the skin, giving you a glowing complexion.
Having tried this mask myself, I know it truly works. I also love that there are three different ways to use it so you can find what works best for your skin type and lifestyle. Here's how to use it:
During the day: apply an even layer and leave it on for 10 to 20 minutes so the product can be absorbed into your skin. Wipe off excess product with a tissue and massage the remaining product into your skin. You can also rinse the excess product off with water.
At night: apply an even layer and leave it on overnight. This will infuse the skin with moisture. In the morning, your skin will be completely refreshed and hydrated.
On an airplane: apply at the beginning of the flight and leave it on. We all know airplanes suck the moisture out of our skin, so Thirstymud will help combat this issue.
This is a winter must-have. Trust me!
Don't miss everything you need to know about facials and a review on Khiel's moisture balm!
[Photo: Sephora]