SHEfinds receives commissions for purchases made through the links in this post. The author of this post also received a sample of the product, but was not compensated to write this post.
I'm all about cheap beauty products that make life easier–a $7 tool for nailing at-home manis, a funny U-shaped metal stick that works better than tweezers. It's the kind of stuff that baffles your boyfriend but makes perfect sense to you. ("Babe, what IS that?!"). I've got a new one for you–the Invisibobble hair ring. It has a silly name and an even sillier look–but I'm telling you it is amazing.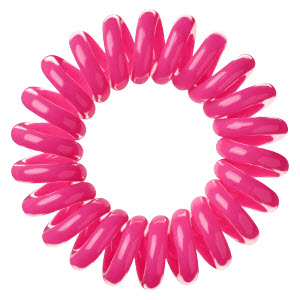 The Invisibobble Traceless Hair Ring
It's for not getting a crease in your hair or headaches from pony tails! Genius.
A girlfriend of mine mentioned that she loved hers, so I scoped them out on Sephora. According to the reviews I read, it works for all hair types (curly, thick, thin) and delivers on its promise not to leave a crease in hair. It's also water repellent, anti-allergic and anti-bacterial, and some customers even reported that it caused less breakage and split ends.
I got my hands on one and am a total convert. It is unlikely that I'll go back to a regular elastic anytime soon. I didn't use to wear my hair up a lot and if I did I would use a banana clip but this works so much better. You can also use them for half buns–which usually cause me the worst headaches. Genius!