I don't mean to complain, but the sad fact of the matter is that I was not blessed in the hair department. Don't get me wrong; I don't hate my hair. But I also do not have the shiny, voluminous hair that you see in commercials. My hair is dry in the summer, so you can only imagine what my situation is like come winter.
For a long time, my normal hair routine included lots of argan oil and Moroccanoil and basically every other oil any beauty expert ever said was good for dry hair. Those products were all fine, but they also definitely weighed my hair down and made for a lot of build-up.
Tired of feeling stuck in the the same ol' rut, I decided to try Kerastase's new oil conditioner, Elixir Ultime, and I am in love. My hair is naturally curly and after using this conditioner my curls were soft and defined and not at all dry or crunchy, which is usually the end result after rinsing. But the benefits didn't stop there; when I straightened my hair, it was still crazy soft and smooth and healthier than it's felt in a really long time. This is what hydrated hair feels like!
Now I'll be the first to admit that $44 isn't typically what I like to spend on hair products, but the end result makes it worth it in my book. I can foresee a bottle lasting a month or two, which is definitely an investment I'm willing to make, especially during the super dry winter months.
If you suffer with dry hair like me, you have to give this conditioner a try. You won't regret it and your hair deserves it.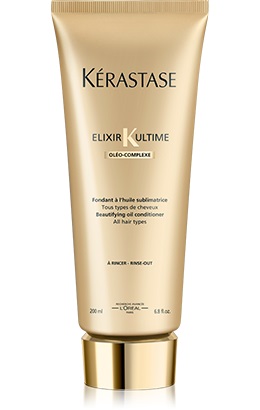 Kerastase Elixir Ultime ($44)
Be sure to check out why winter is actually good for your beauty routine and the best hair brush for your hair type.
[Photo: Kerastase]