With winter on the way, we're getting ready for those cozy nights. When considering what to buy your loved ones for the holidays, we're convinced that you can't go wrong with candles. After all, you can never have too many, right? The only hesitation we sometimes find when gifting candles is doubting whether the person receiving it will like the scent or not.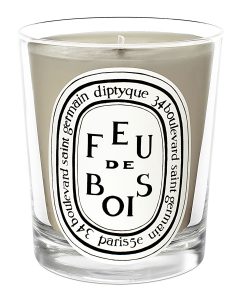 Diptyque Feu de Bois Scented Candle ($60)
But this year for our annual holiday gift guide, we included a candle that we are sure will receive an 100 emoji from whoever receives it. We featured the Diptyque Feu de Bois Scented Candle ($60), and while the price may seem a little steep, we promise you there is no other candle like this one. It's one of the most sought-after scents from the cult candle brand. We especially recommend this scent, because it reminds us of cozying up in a log cabin (or imagining we are) with it's warm and rare wood scents. We promise you can't go wrong with this one.
GET THE DIPTYQUE FEU DE BOIS CANDLE NOW
Don't miss the Olivia Palmero x BaubleBar holiday collection and these cool constellation necklaces.