I've written extensively about my obsession with all things skin-hydrating. I swear by facial and body oils and yes, I apply full body lotion at least twice every day.
It should come as no surprise that three out of the four drawers in my bathroom are filled with lotions, creams and serums to keep my skin moist and smooth, but the one I'm never without is Soap & Glory's Smoothie Star Body Milk Lotion. Why? Well for starters, it smells delicious. It's almond-y and vanilla-y and I can't get enough of it. It definitely goes on sweet, but as time progresses it mellows out and leaves the perfect scent.
Fragrance aside, it is also a top-notch moisturizer. I swear by it during winter because it's one of the best moisturizers I've come across that actually keeps skin soft and hydrated on cold, dry days. It actually features a cool water lock moisture trapping matrix technology, so you know the moisturizing effectiveness is legit.
The best part, though? This lotion may look fancy, but it's really budget-friendly. A mega-size bottle (16.2 oz.) will only set you back $12! Trust me, you've gotta try this stuff; I love it!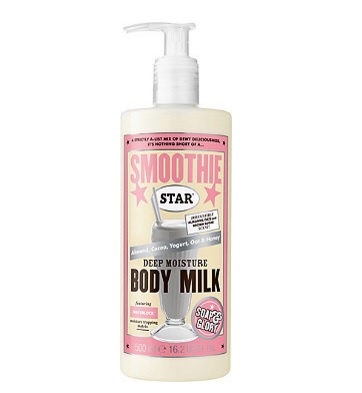 SHOP SOAP & GLORY'S SMOOTHIE STAR BODY MILK LOTION
Be sure to check out the 4 products every woman should put on  her face every day and Urban Decay's new eyeliner and eyeshadow vault.
[Photo: Ulta]