We've gone over what happens to our bodies an hour after drinking a Coca-Cola. Just like how we know soda isn't the best thing for us, the same applies to a McDonald's Big Mac. But sometimes we just can't help ourselves, I mean it's been on the menu for so long for a reason. We hate that we love it. However, as of yesterday, an infographic about how our bodies digest Big Macs was making the Internet rounds and to say the least, it didn't make the burger very appetizing anymore.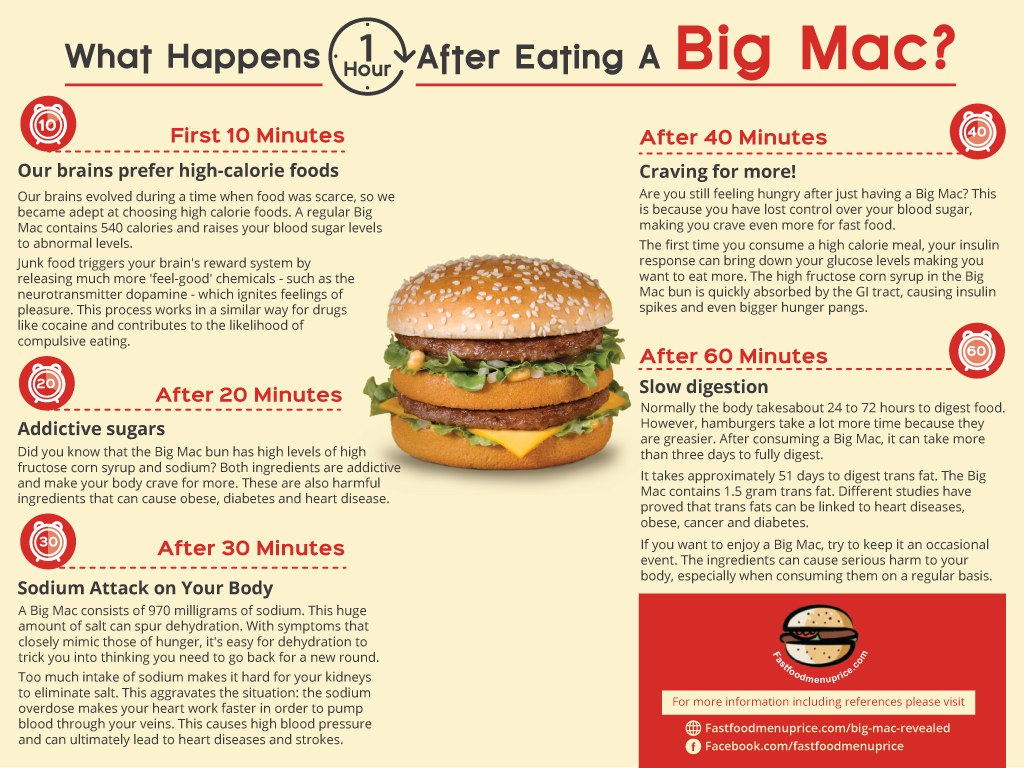 This infographic was created by Fast Food Menu Prince. The illustration shows how the digestion process works in five segments within the first hour after consumption.
This graph then demonstrates how the 540-calorie burger increases your blood sugar levels to "abnormal levels." It also demonstrates that apparently the overall Big Mac burger contains 970 milligrams of sodium, which can lead you to overeat due to the dehydration that comes with all that sodium. And it's important to note that a Big Mac being 540 calories does not include cheese or the signature Big Mac sauce. Yeah… we knew the Big Mac was bad, but seeing numbers definitely changes the game.
However, in an interview with Yahoo! Health about the infographic, dietitian-nutritionist named Lisa Moskovitz points out that this info graph cannot be generalized 100%. Moskovitz shares with Yahoo! Health, "Everyone's body has a different blood sugar and insulin response… Because there is also a significant amount of fat in a Big Mac, it may slow down the conversion of the carbs into glucose that travel through the blood stream." This means that the immediate effects an hour after consuming the burger vary from person to person. She does agree that the infographic is accurate, however, she also points out that it's "somewhat exaggerated."
Knowing this, do you have any final thoughts or opinions about what goes on with our bodies an hour after eating a Big Mac? Does it change how you feel about it? Feel free to share with us your thoughts and opinions in the comments section below!
And don't forget to check out: Moleskine–Makers Of The Most Amazing Notebooks Ever–Now Makes Bags!, Reese Witherspoon Revealed She's Opening A Draper James Store, and 5 Ingredients That Will Make Your Mac & Cheese Next-Level.
[Photo: Shutterstock]