Rag & Bone announced that it would be releasing its first ever collection of handbags back in April, and now comes the very first photo (courtesy of Vogue) of their Rag & Bone 'Pilot' handbag ($695):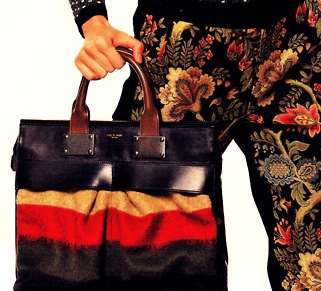 The Rag & Bone 'Pilot' handbag ($795), which was also featured in their F/W12  show, is inspired by helmet carriers used by the Air Force and also comes in a large size ($995). According to Vogue, the satchel features two oversized utilitarian pockets in the front, and comes in Italian vachetta and calf leather, English tapestries, and striped melton blanket fabric. We reached out to the Rag & Bone reps for an online launch date, but have yet to hear back. So stay tuned for more information! UPDATE: Rag & Bone confirmed that the bags will hit stores in September. Let the countdown begin!
For more bag news, check out Rachel Roy x Seu Jorge, Prada's Re-Issue bags, and the hard-shell clutch trend.