Do you find yourself typing the words "sorry" and "just" all too frequently in emails? Don't worry because there is a brand new Google Chrome extension called Just Not Sorry that will completely change the way you sound in emails. Tami Reiss, the CEO of Cyrus Innovation, is the mastermind behind this genius and must-have app.
"I am queen of the 'does this makes sense?'" Reiss said in a phone interview with Slate. The idea came to her after a conversation with fellow female entrepreneurs. "We thought: What if we changed the environment? What if we pinged someone to say, 'Hey, you're doing this thing that you probably don't want to do. The response is going to be unconscious to someone else, but it's going to have a really big impact.'"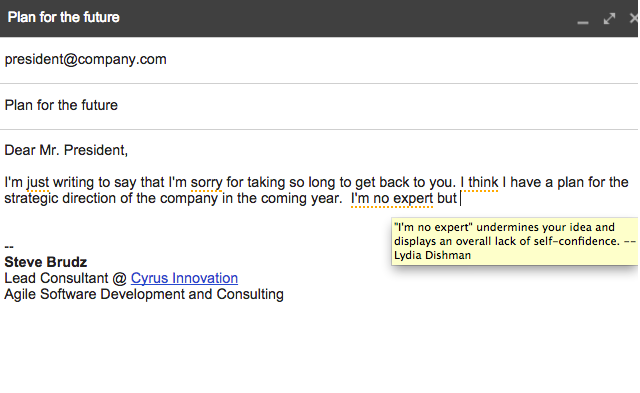 Just Not Sorry will underline self-demeaning phrases in red like "I'm no expert" and qualifying words like "actually." If you hover over the underlined words, explanatory quotes will pop up from powerful women. Slate writer Christina Cauterucci explains in her article that the "app relieves women of a bit of the sizable burden of realigning their subconscious word choices though the hover-over explanations could be tweaked to read as more encouraging than blame-y."
Since last night, 5,000 people have downloaded this Chrome extension. Amazing!
Don't miss why snoozing your alarm is bad for your health and shop the best 2016 planners!
[Photo: Shutterstock]