Don't get me wrong, I love shopping. It's such a great stress reliever and hey, it's always a good day when you find something cute that's on sale! If only it was always so easy. Sometimes it takes weeks to find exactly what you're looking for, if you even find it at all.
Enter Mallzee, the personalized shopping app that adjusts to your taste based on whether you swipe right for what you like, or swipe left for what you don't. So it's basically Tinder for shopping, except instead of finding "the one," your match is the perfect outfit for whatever occasion you're shopping for.
Always needing fashion advice from friends? Mallzee has you covered. The app allows you to share your favorite items with your friends and get their opinions on them before you purchase. Just send to your besties for them to give a thumbs up or down; it's like having your personal consultants with you all the time. Now, if only we had this function on Tinder…
Here's a peek at how the app works, and you can download it here.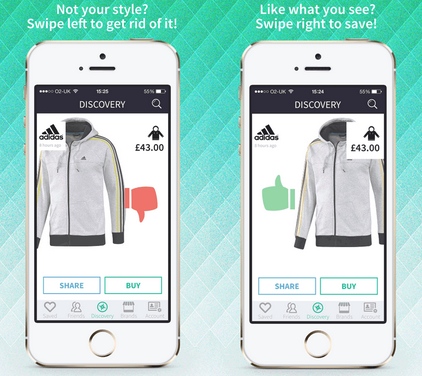 Don't forget to check out: J.Crew's swim and beach sale, the worst celeb feet, and this awesome flag print dress
[Photo Credits: Shutterstock, Mallzee]