SHEfinds receives commissions for purchases made through the links in this post. SHEfinds received a sample of the product(s) reviewed in this post but was not compensated to write this post.
I'm not very picky when it comes to shampoo and conditioner. Honestly, I buy whatever is on sale at the drugstore. When I was asked if I wanted to try samples SoapBox's shampoo and conditioner, I figured why not?
If you've never heard of SoapBox before, they are a "one for one" company meaning you buy one, they give one. For every SoapBox product sold, the company gives away a free bar of soap or a month's worth of clean water to a person in need.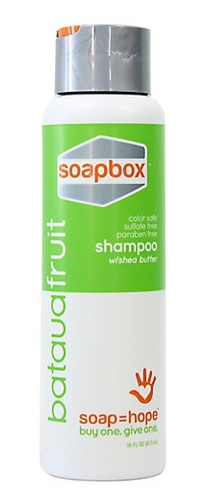 SoapBox Bataua Fruit Oil Shampoo ($5.99)
Getting back to the shampoo and conditioner, though. I tried out SoapBox Bataua Fruit Oil Shampoo ($5.99) and SoapBox Bataua Fruit Oil Conditioner ($5.99). The first thing I do before ever trying a shampoo/conditioner on my hair is see how it smells. Let me tell you, these products smell amazing!  What's more, both the shampoo and conditioner don't contain any sulfates or parabens, and they are safe for color-treated hair. Yes, please!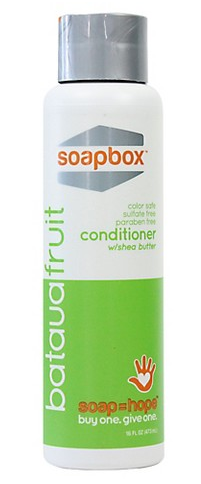 SoapBox Bataua Fruit Oil Conditioner ($5.99)
Both products are very lightweight and don't weigh down my hair at all. Some conditioners make my hair feel really heavy and coated with product but this one doesn't. The main ingredient, bataua fruit, is from Brazil and is known for repairing hair from roots to tip. It's filled with fatty acids and amino acids that work to nourish your scalp and hair.
If you're looking for a sulfate-free shampoo/conditioner and don't want to spend a lot of money, I really recommend trying SoapBox. You can even see where in the world your purchase is going with a Hope Code. Simply type in the code on the back of the package and you can track where you are doing good!
Don't miss the Pantene hair-burning controversy and the 6 worst things for dry hair!
[Photo: Target]