The stiff, traditional bride n' groom cake toppers of yesteryear are SO bland – a good wedding cake is practically begging to be topped with something a little more unique and, depending on your tastes, maybe even a little whimsical? If you want to adorn your wedding cake with a single stylish, statement-making flourish, check out this Mr & Mrs Cake Topper ($48) that recently popped up on our Pinterest feed!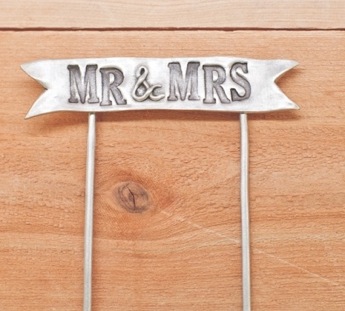 Get it: Liza Leonard's Mr and Mrs Cake Topper ($48).
What better way to upgrade a simple white fondant cake than by beautifying it with this handmade, hand-stamped, fine pewter cake topper? You can snag the real deal from Lisa Leonard Designs. (It also makes a great wedding keepsake!) Want a cake topper with a sense of humor? Check out these humorous wedding cake topper options!
Shop our guides to the best wedding cake toppers, wedding centerpiece decorations, and bridal hair accessories.