I've tried at least a dozen face moisturizers and I have yet to find something that suits my needs. I have combination skin, but more towards the oily side. At night, my skin literally absorbs everything so when I wake up in the morning my skin is dry and patchy. Up until now, I haven't found a moisturizer that was right for me. I was introduced to philosophy's back to nurture replenishing moisture crème and it's ah-ma-zing!
The back to nurture replenishment cream is a truly comforting moisturizer that caters to dry, depleted skin. It will replenish your skin's moisture levels with hyaluronic acid and shea butter. I've been using back to nurture a little less than a month and my skin feels so much softer and hydrated. The best part? I don't wake up with dry, patchy skin! I personally use this moisturizer at night because it's a bit thick for me to use during the day, but according to the directions you can use it day and night. I'm so happy I found something that works for me and this will be great when the winter comes!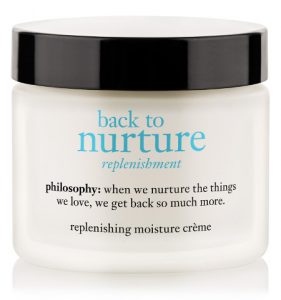 philosophy back to nurture replenishing moisture crème ($65)
I've used other philosophy products before, but I never even knew about their hope & grace initiative. One percent of all philosophy product sales supports community-based mental health efforts. I'm a huge advocate for mental health so this just makes me love philosophy even more!
Find out what freckles really are and why you should never rub moisturizer into your skin!
[Photo: philosophy]