Decorating book shelves can be tricky. It goes way beyond just stacking your books on them–you need things like book ends and small accents like candles and trays–all styled perfectly so when you walk in to the room they feel clean and colorful and like an extension of your personal style. I have struggled with this myself–which is why I was thrilled to meet a guru on the topic, design blogger and mother of 6 (!), Gabrielle Blair of Design Mom.
I met Gabrielle recently when she styled a room for HomeGoods to reflect her own family's home (um, can I live there please?) including these beautiful bookshelves, filled with pieces from her own travels and other decor that infused her personality and who she is into the space. Gabrielle's trick for decorating bookshelves is so simple and yet so incredibly effective: Sort them by color!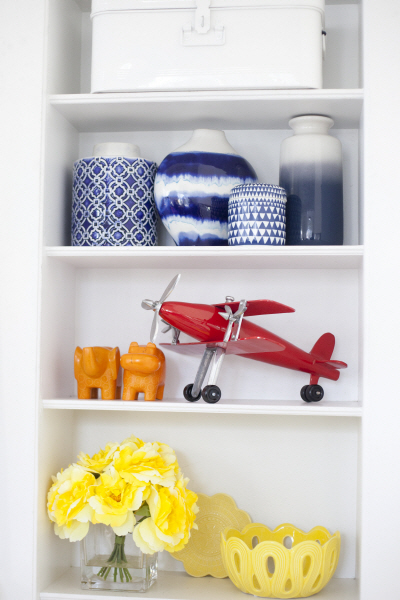 Design Mom for HomeGoods 
She says, "One of the frequent questions I get asked by readers is what to do with their bookshelves. Sometimes there are more shelves than people know what to do with, and while simply filling them with books seems like an easy answer, a random collection of books — kid books, old college textbooks, grocery store paperbacks, and your favorite craft books — don't always make a good-looking display. Bookshelves can be tricky to style!
So I wanted to come up with an idea that would be easy to replicate, even if the person putting the shelves together doesn't consider herself someone with design skills. The solution I ended up using is color blocking. It's so simple it's almost full-proof! You can copy the color scheme I used, or choose something completely different. Or you can even go monochromatic.
You can fill the shelves with new objects, or you can go through your cupboards and choose vases, fruit bowls, planters, and tabletop lanterns that you already own, but that aren't in use, and make them part of your display. Pretty + practical!"
Well, I know what I'm doing this weekend!
For more great tips and advice, grab a copy of her new book, "Design Mom," now available for pre-order! And see more pics of her space for HomeGoods here, which prove that home style is like a fingerprint – everyone's is different: