You guys, we hate to break it to you, but summer is officially over next week (Tuesday, to be exact). Beach trips and BBQs won't come around for another 300 something days. So since this is your last weekend to live the good life, we suggest doing something to celebrate and say goodbye. Plan a Friday happy hour! Invite your besties over for Sunday brunch! Basically anything you wouldn't do when the weather isn't gorgeous outside.
We have the perfect cocktail to prepare for any end-of-summer festivities. Not only is this drink delicious, but it's also based off a quintessential summer food: s'mores. This recipe should help you hold on to those last few glorious days of summer just a little longer:
Pinnacle S'mmmores
1 part Pinnacle® Whipped® Vodka
1 part DeKuyper® Creme De Cocoa Dark Liqueur
Splash of Club Soda
Serve over ice
Garnish with marshamllows
Actual S'more optional (but highly recommended)
Watch this video to see how it's al put together:
[youtube]https://www.youtube.com/watch?v=JGa2f2TNz84&list=UUyAJQKf3VvHK4tptiYJv-Iw[/youtube]
"Pinnacle Vodka shakes things up with unexpected experiences and delightful discoveries. Explore with other fun flavors at http://www.pinnaclevodka.com". Also, check us out at www.facebook.com/pinnaclevodkas and https://twitter.com/PinnacleVodka or find more fun entertaining and drink ideas on our Pinterest page athttp://www.pinterest.com/pinnaclevodka/".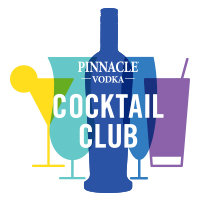 "Pinnacle® is a registered trademark of Jim Beam Brands Co. and is used with permission.  This is a sponsored partnership, with Pinnacle® Vodka, via Mode Media.  The information, comments, and ideas expressed on this website are those of the author and do not necessarily reflect the opinions or positions of Jim Beam Brands Co., its affiliated companies, or any of their directors or employees."